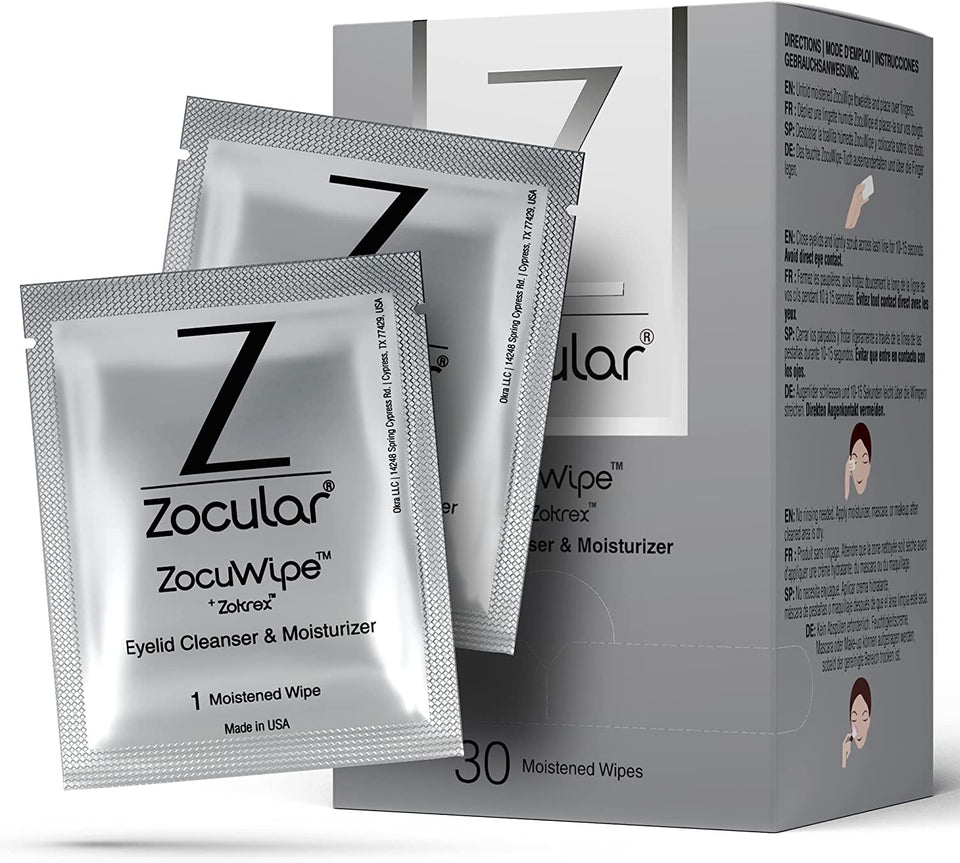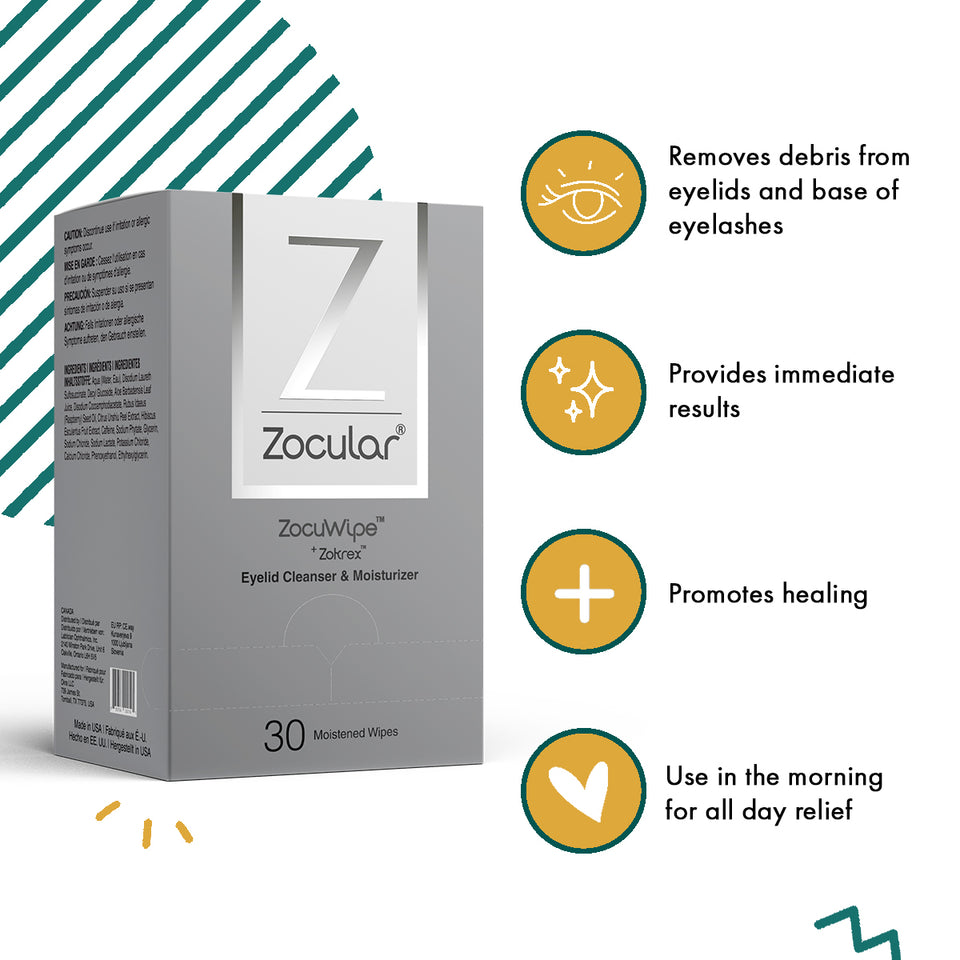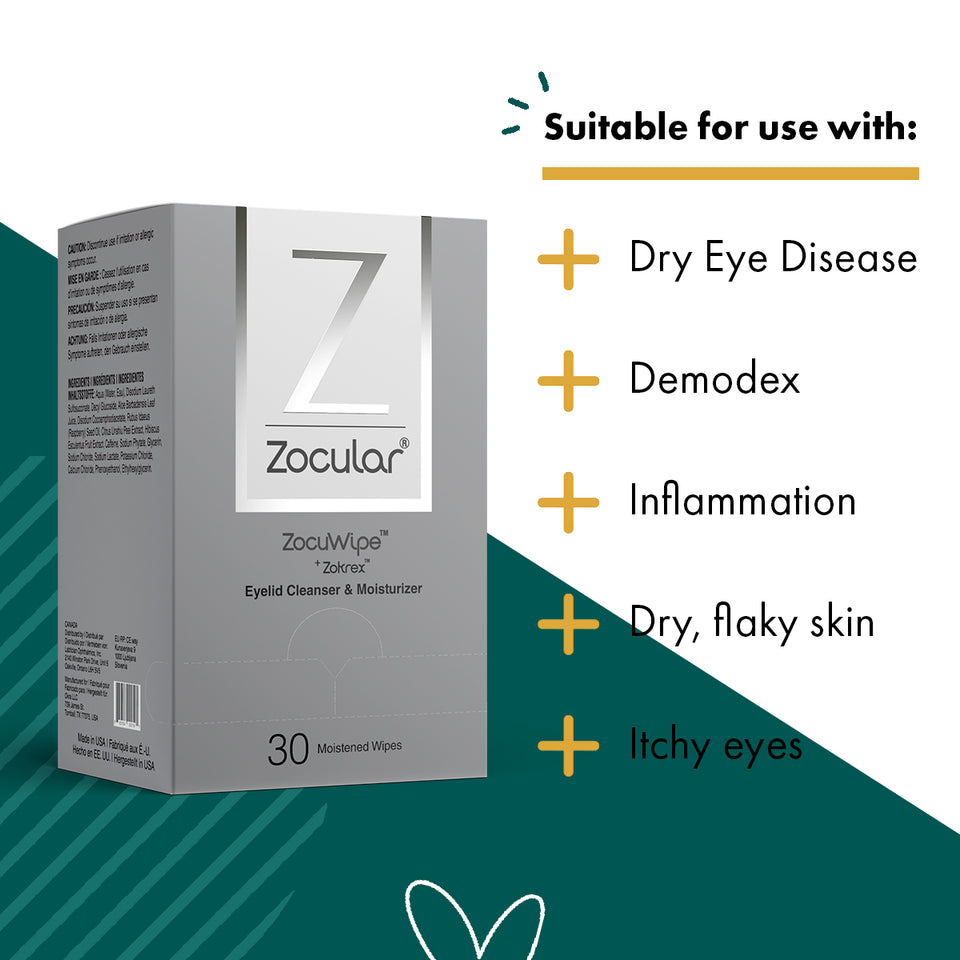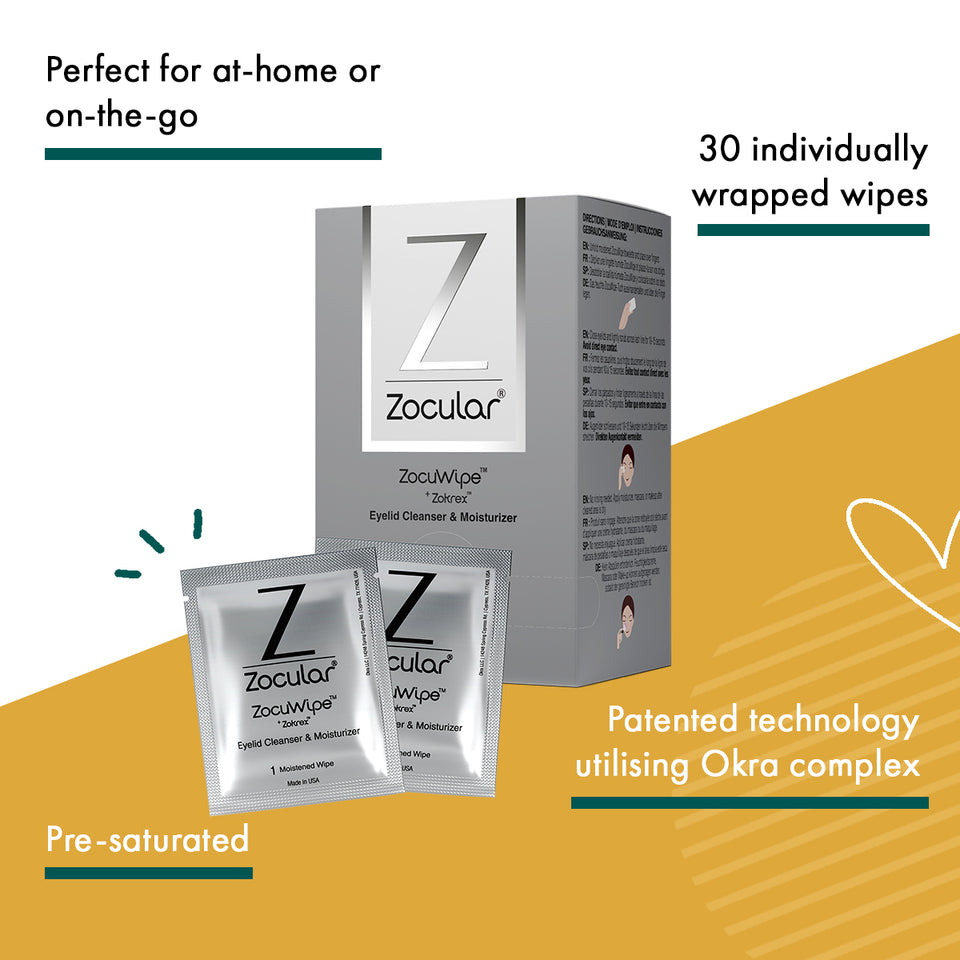 Zocular ZocuWipe Eyelid Wipes
ZOCUEYEWIPE15
by Zocular
The ZocuWipe Eyelid Cleanser & Moisturiser is suitable for those suffering from any of the following:
Evaporative Dry Eye Disease
Demodex
Inflammation
Dry, flaky skin
How does the ZocuFoam Eyelid Cleanser & Moisturiser work?
ZocuWipe Eyelid Cleanser & Moisturiser is designed to effectively remove debris from the eyelids and the base of the lashes without irritation, keeping eyes clean and healthy. Contains a patented Zokrex system with activated Okra polysaccharide complex, each wipe releases micelles, namely, Zocusomes, to cleanse and soothe the eyelids, lashes and face.

What is Zokrex?
Zocular® products incorporate an innovative, natural approach for the management of Dry Eye conditions using a patented, Okra-based polysaccharide system, namely, Zokrex™ which provides immediate and durable clinical results. The patented Zokrex formula with activated Okra technology brings a new level of lid hygiene effectiveness to home-maintenance therapy.
What is Okra?
Okra is a well-known topical vegetable grown worldwide. Due to abundant bioactive compounds, such as polysaccharides, the antibacterial, anti-inflammatory and immune regulatory effects of Okra have been proven and are widely applied in the cosmetics industry, where the safety and efficacy of Okra has been established. Due to the curative and medicinal effects of Okra, clinical studies show that it may confer therapeutic effects in patients with Blepharitis and Dry Eye.
How to use?
Use 1 wipe for both eyes, ideally in the morning for all-day relief. Place the wipe over the index and middle finger and gently wipe from nasal corner across the lash line. The wipe can then be turned over to the other side and repeated the other eye.
Delivery & Returns
UK
Our standard shipping policy is as follows:
Standard delivery (4-7 days) - £2.99
Express delivery (1-3 days) - £5.99
FREE express delivery on orders over £25 
Rest of World*
Standard international delivery - £10.99
*Minimum order value £100 for international orders (May be subject to local customs charges)