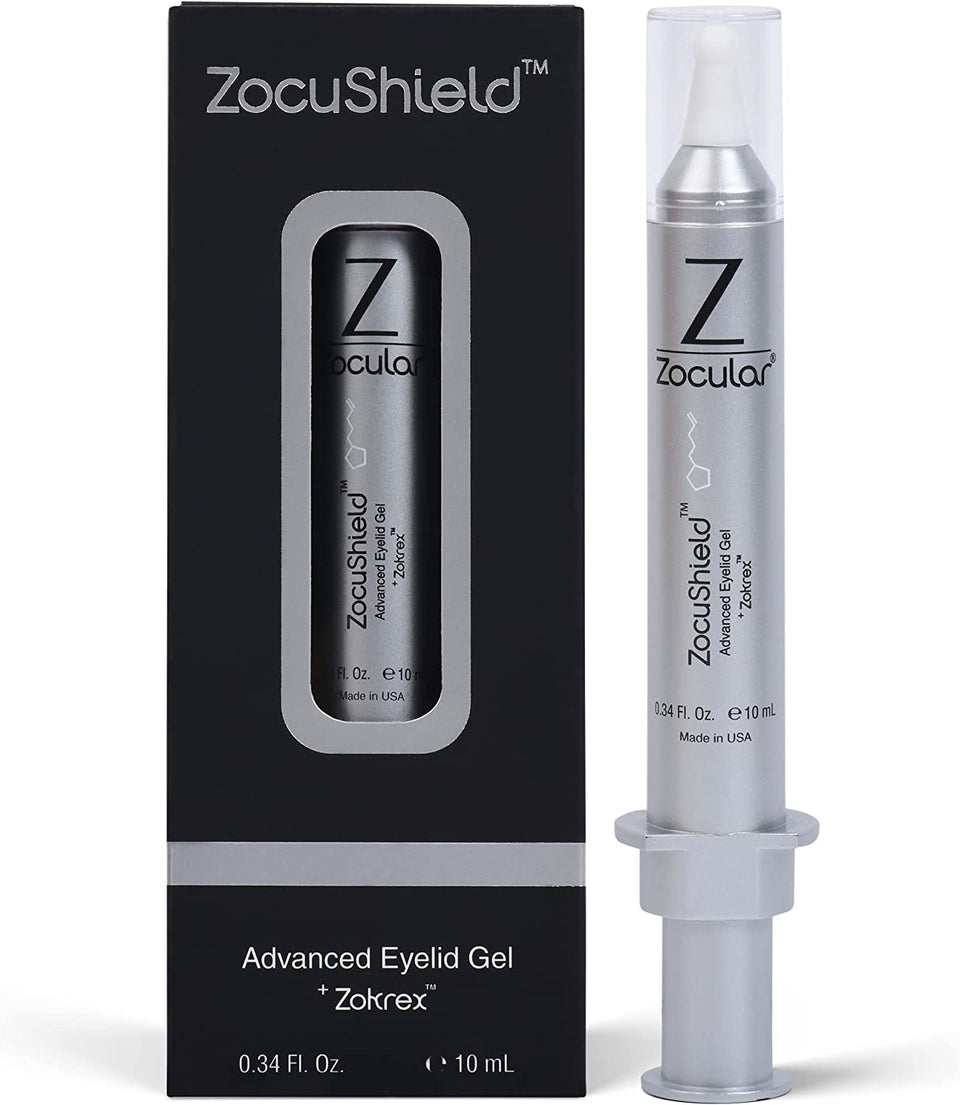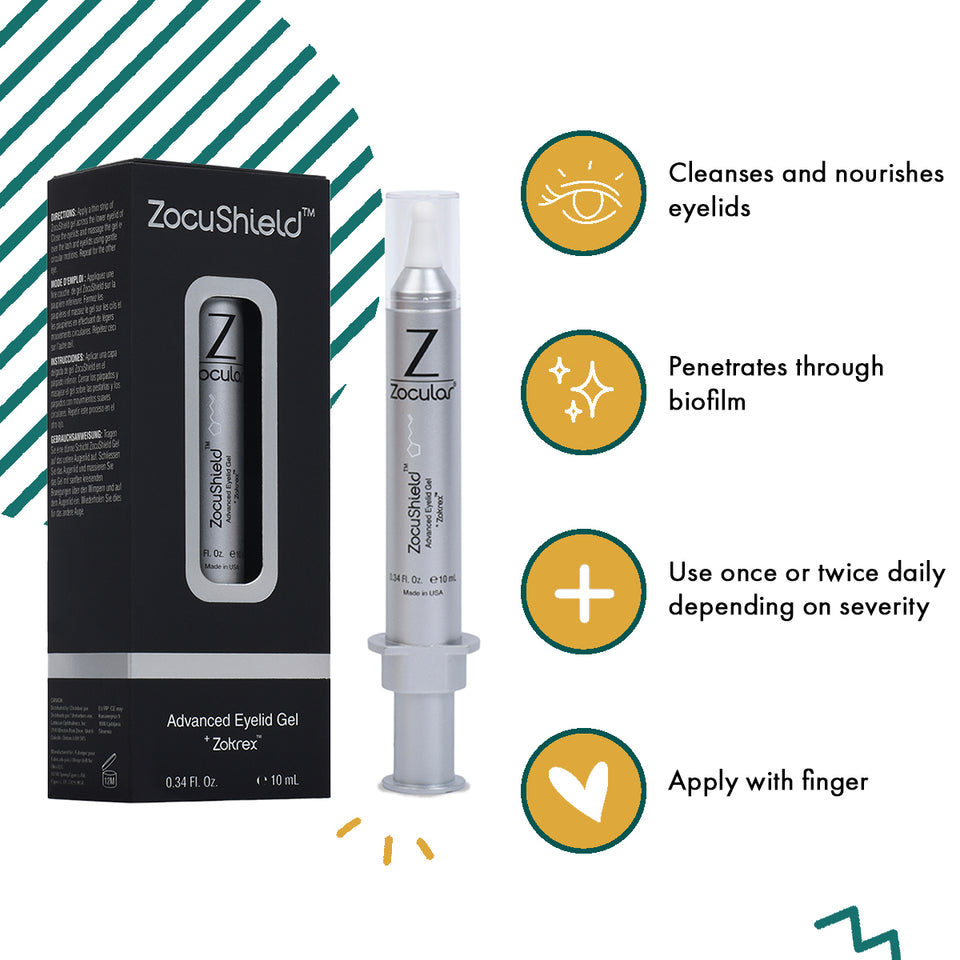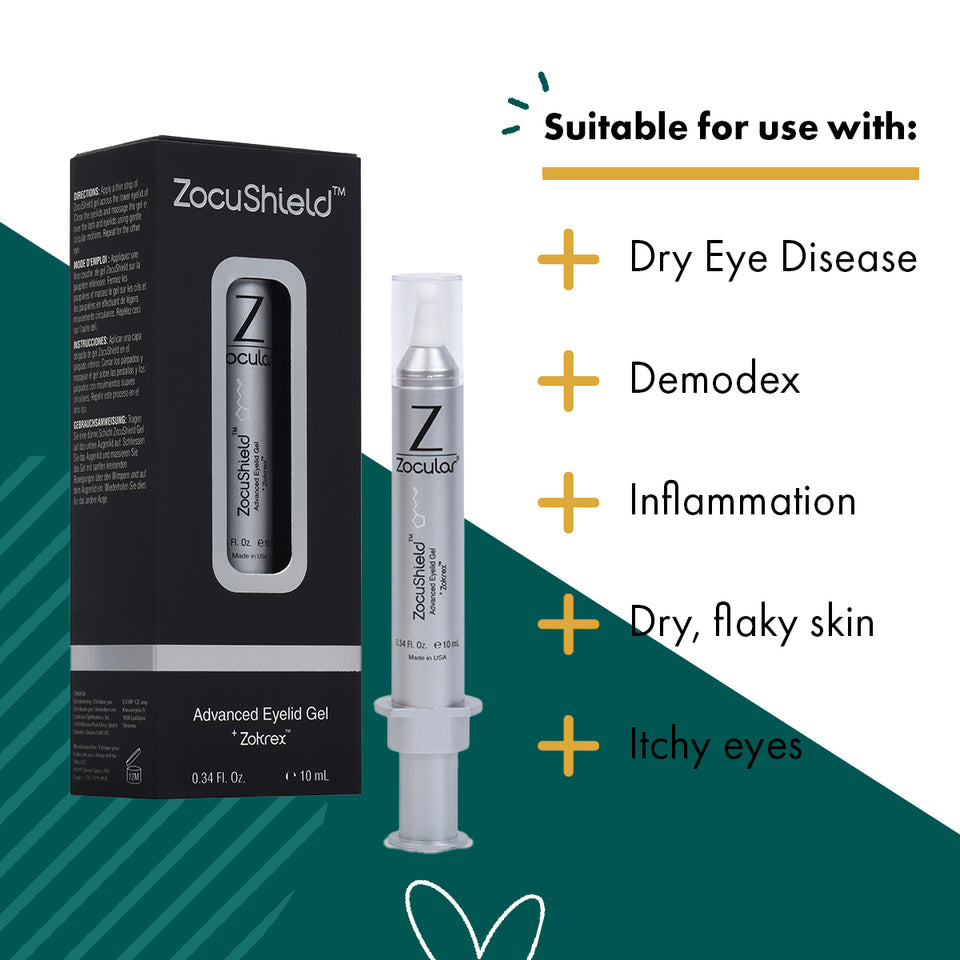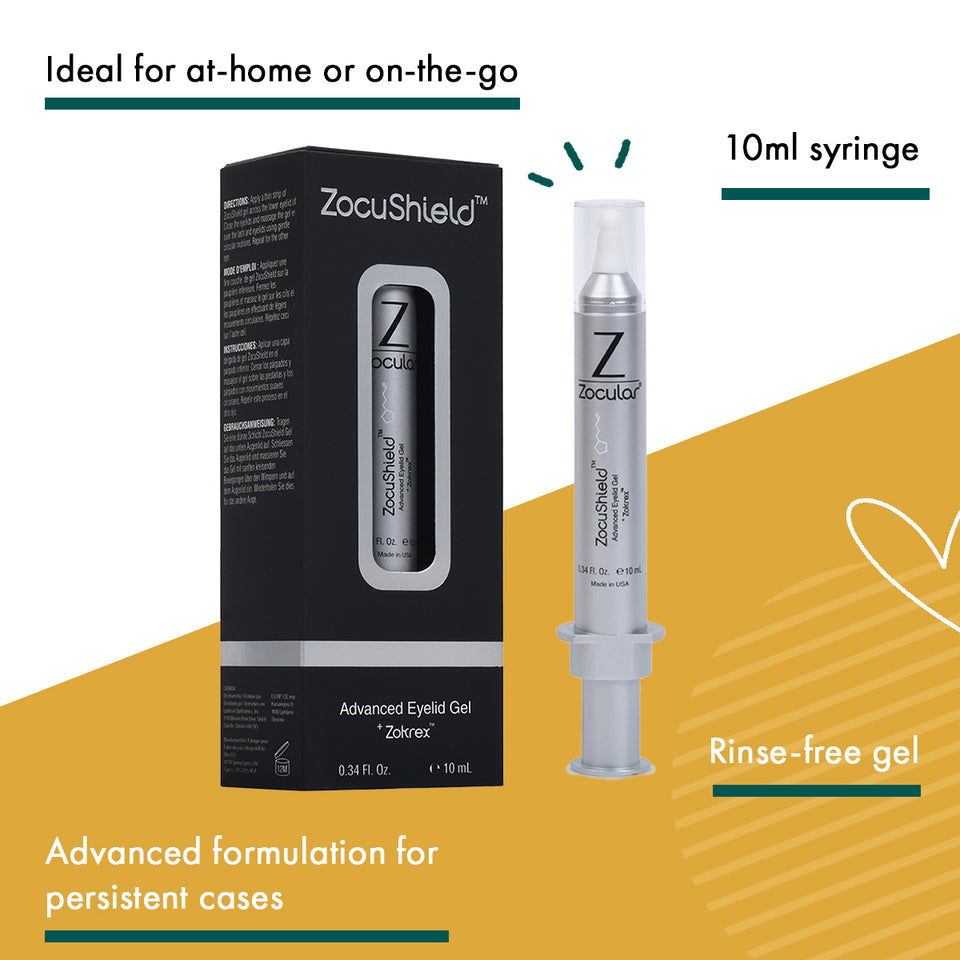 Zocular ZocuShield Eye Gel
ZOCUSHIELD
by Zocular
ZocuShield is developed by an Ophthalmologist and recommended by dry eye specialists for some of their toughest cases. The unique micellar formula specifically addresses the root cause of dry eyes, puffy eyes and inflammation. Suitable for use with:
Dry Eye Disease

Demodex
Inflammation
Dry, flaky skin
Itchy eyes
How does the ZocuShield Eye Gel work?
ZocuShield is an innovative gel containing activated Okra polysaccharide complex that penetrates through the biofilm to cleanse and nourish the eyelids. With its advanced formulation, ZocuShield™ is the perfect solution for a patient looking for an effective and easy way to care for their eye health. Apply once or twice daily for instant, lasting results.

What is Zokrex?
Zocular® products incorporate an innovative, natural approach for the management of Dry Eye conditions using a patented, Okra-based polysaccharide system, namely, Zokrex™ which provides immediate and durable clinical results. The patented Zokrex formula with activated Okra technology brings a new level of lid hygiene effectiveness to home-maintenance therapy.
What is Okra?
Okra is a well-known topical vegetable grown worldwide. Due to abundant bioactive compounds, such as polysaccharides, the antibacterial, anti-inflammatory and immune regulatory effects of Okra have been proven and are widely applied in the cosmetics industry, where the safety and efficacy of Okra has been established. Due to the curative and medicinal effects of Okra, clinical studies show that it may confer therapeutic effects in patients with Blepharitis and Dry Eye.
How to use?
Ensure the bottle is in its unlocked position by turning the inner tube counter-clockwise. Press down on the inner tube slowly to dispense one drop of gel onto the tip of the index finger. Do not completely depress the inner tube, which will result in too much gel being dispensed. Spread the ZocuShield gel drop across the lash line, using the index or middle finger to massage the gel across the lash line using lateral moving for 10-15 seconds. Advise your patient to blink several times while massaging the gel across the lash line to allow the gel to coat both the upper and lower lashes.

Delivery & Returns
UK
Our standard shipping policy is as follows:
Royal Mail 2nd Class Tracked - £1.99 or free on orders over £20
Royal Mail 1st Class Tracked - £2.99
Courier Delivery - £5.99
Rest of World*
Standard international delivery - £10.99
*Minimum order value £100 for international orders (May be subject to local customs charges)