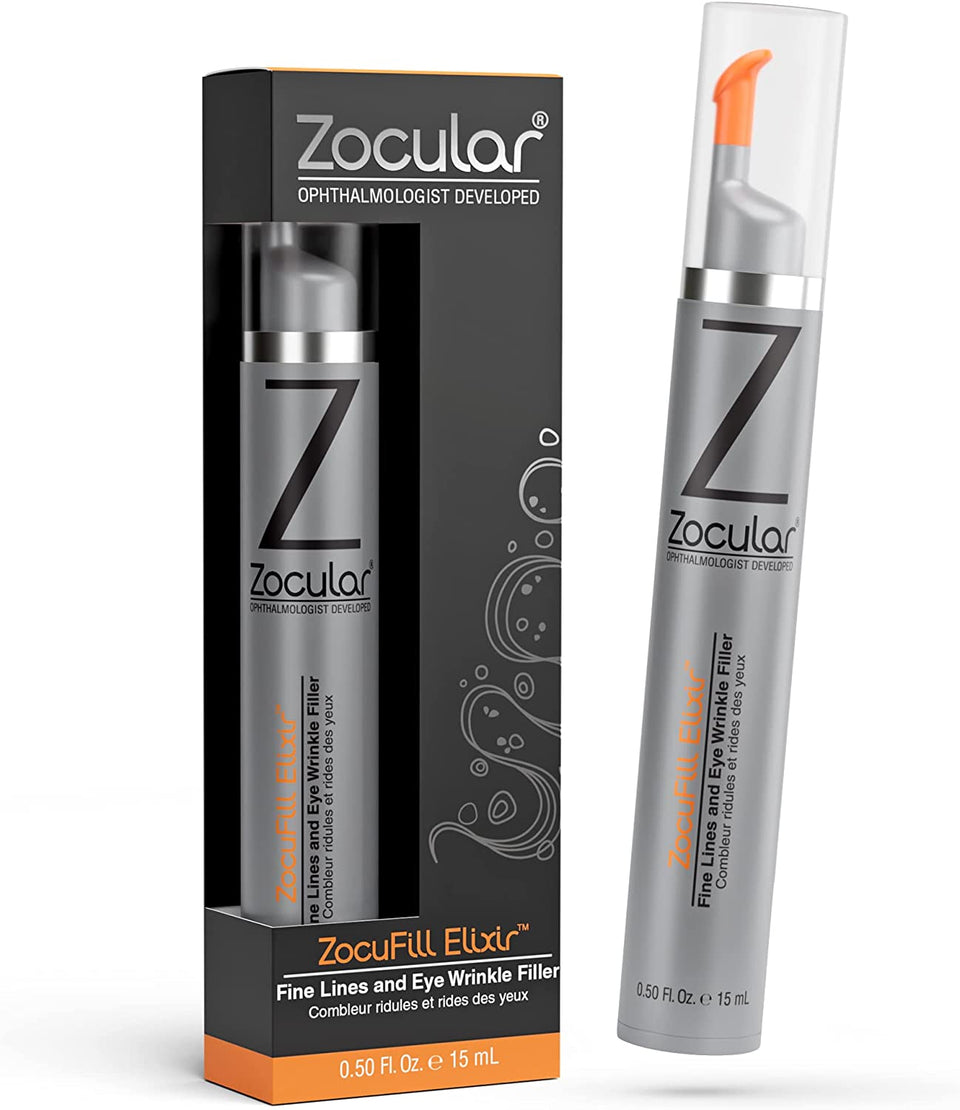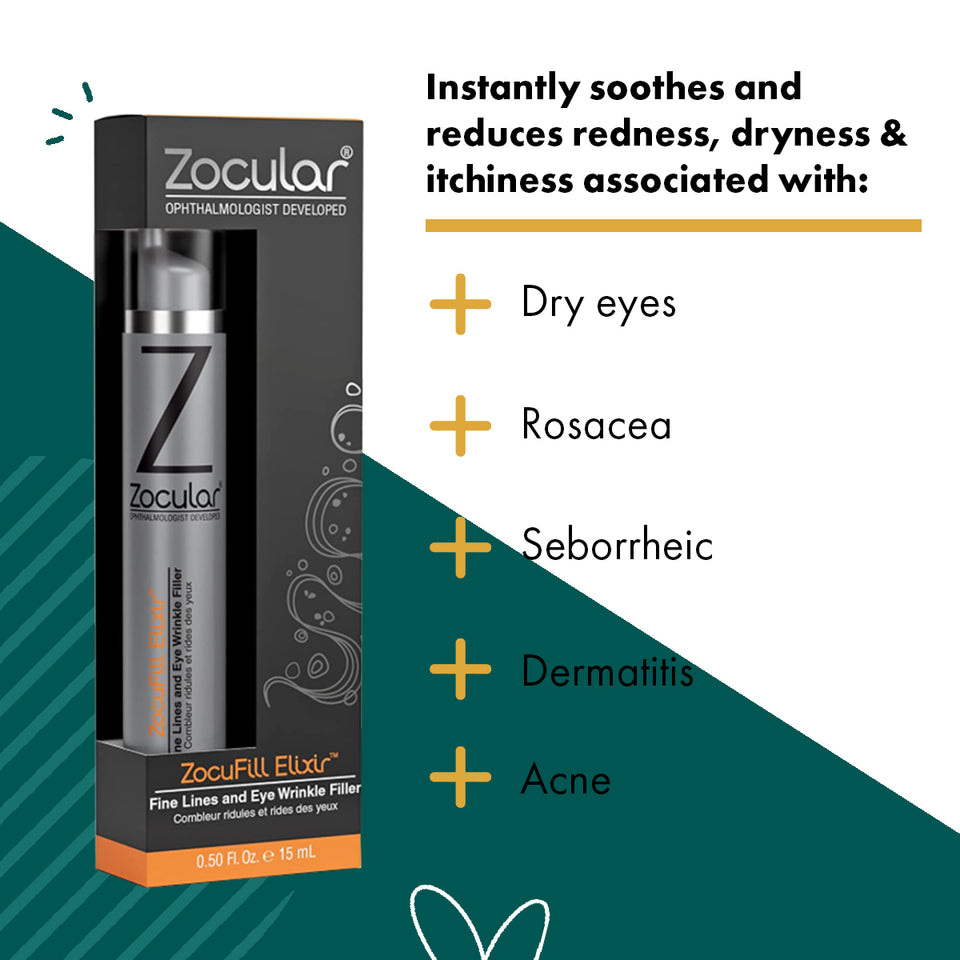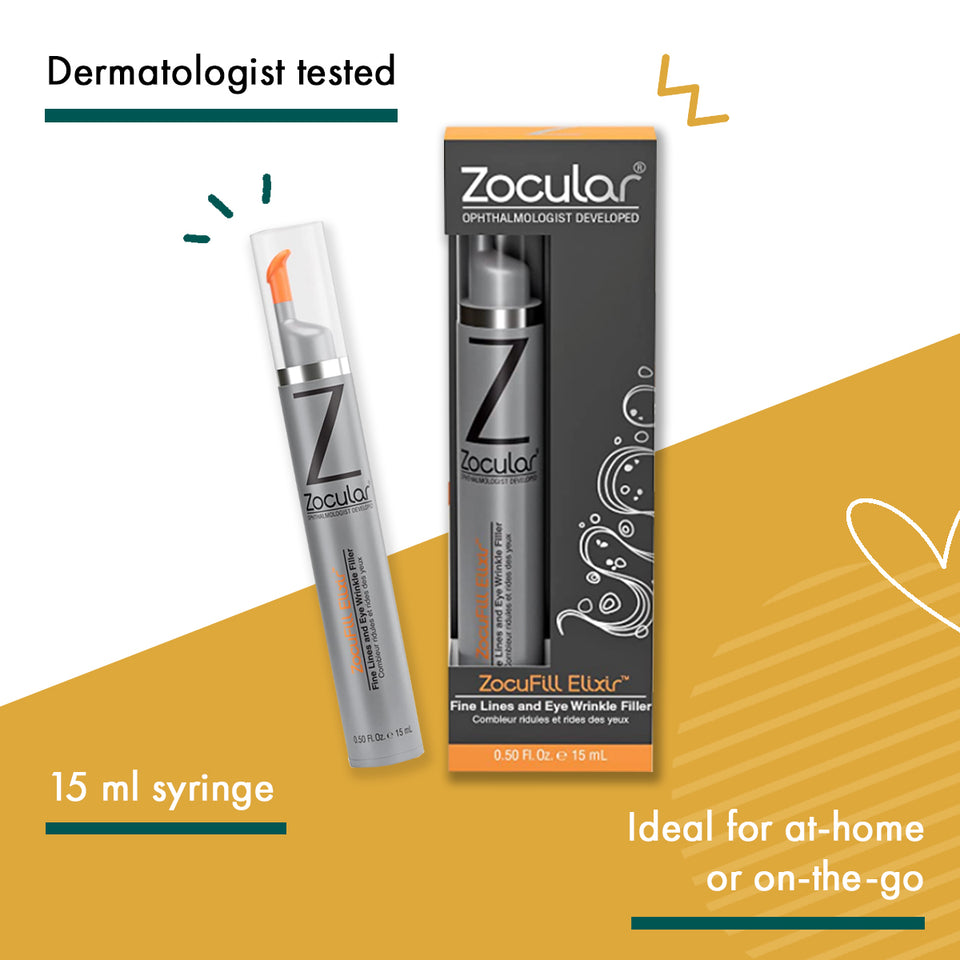 Zocular ZocuFill Eye Gel & Face Serum
ZOCUFILL
by Zocular
ZocuFill Elixir is developed by an Ophthalmologist and Zocufill Elixir is developed by an Ophthalmologist and dermatologist tested. Reimagine beauty with our latest breakthrough for fine lines and eye wrinkles. Our patented Zokrex™ system with activated okra complex produces amazing results in just a few weeks with just one application per day.

ZocuFill Elixir instantly soothes and reduces redness, dryness & itchiness associated with:
Dry eyes
Rosacea
Seborrheic and Dermatitis
Acne
How does the ZocuFill Elixir Eye Gel & Face Serum Work?
Derived from fresh okra, ZocuFill Elixir Eye Gel & Face Serum produces amazing results within a few weeks, by directly addressing the factors that lead to the breakdown of collagen and elastin in our skin. ZocuFill Elixir calms the daily insults to our skin and eyelids and empowers your body to heal itself.
What is Zokrex?
Zocular® products incorporate an innovative, natural approach for the management of Dry Eye conditions using a patented, Okra-based polysaccharide system, namely, Zokrex™ which provides immediate and durable clinical results. The patented Zokrex formula with activated Okra technology brings a new level of lid hygiene effectiveness to home-maintenance therapy.
What is Okra?
Okra is a well-known topical vegetable grown worldwide. Due to abundant bioactive compounds, such as polysaccharides, the antibacterial, anti-inflammatory and immune regulatory effects of Okra have been proven and are widely applied in the cosmetics industry, where the safety and efficacy of Okra has been established.
How to use?
Dispense and massage thin layer of gel around eye area once at night, targeting fine lines and wrinkles. Allow area to dry before applying moisturizer or other skin care products.

Delivery & Returns
UK
Our standard shipping policy is as follows:
Royal Mail 2nd Class Tracked - £1.99 or free on orders over £20
Royal Mail 1st Class Tracked - £2.99
Courier Delivery - £5.99
Rest of World*
Standard international delivery - £10.99
*Minimum order value £100 for international orders (May be subject to local customs charges)