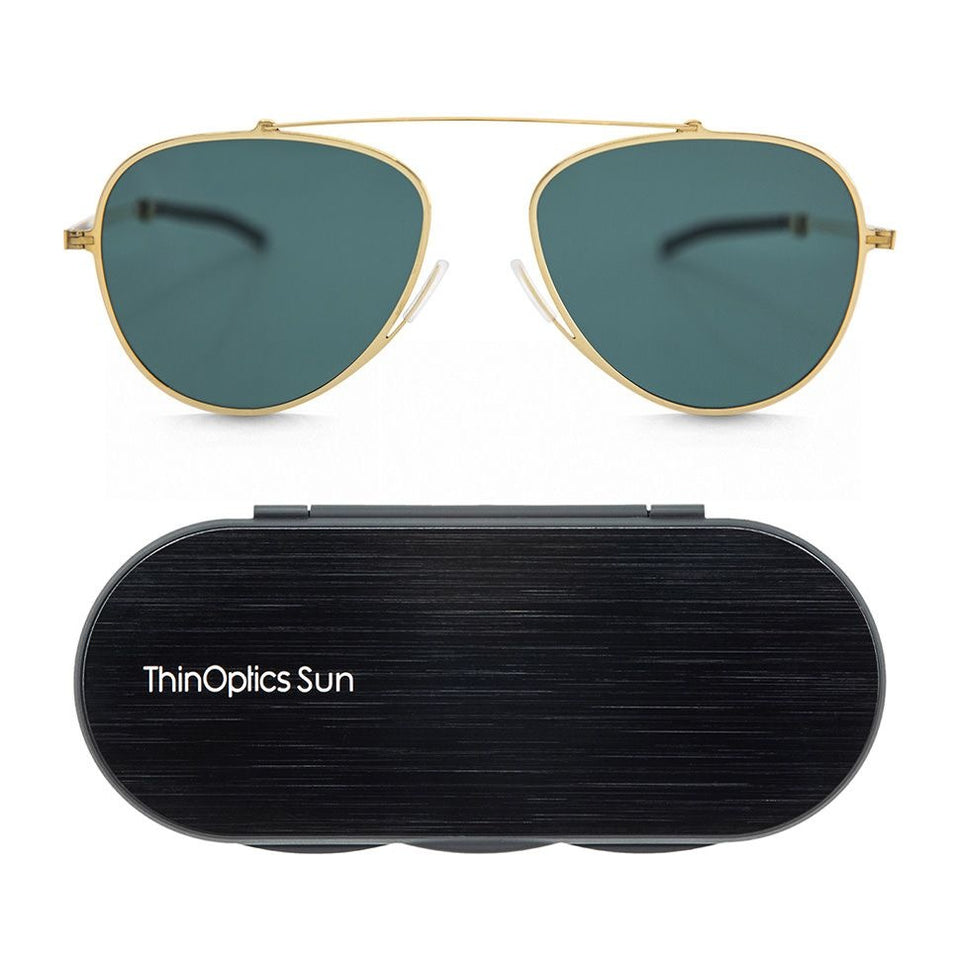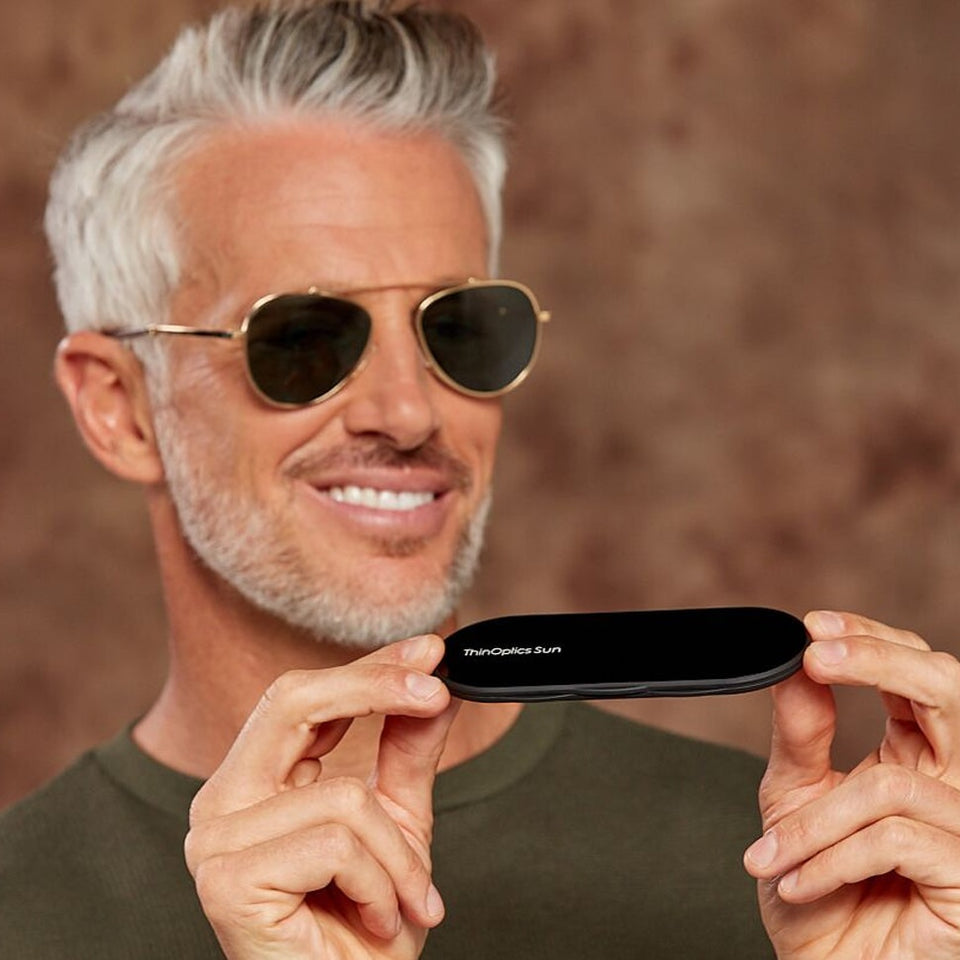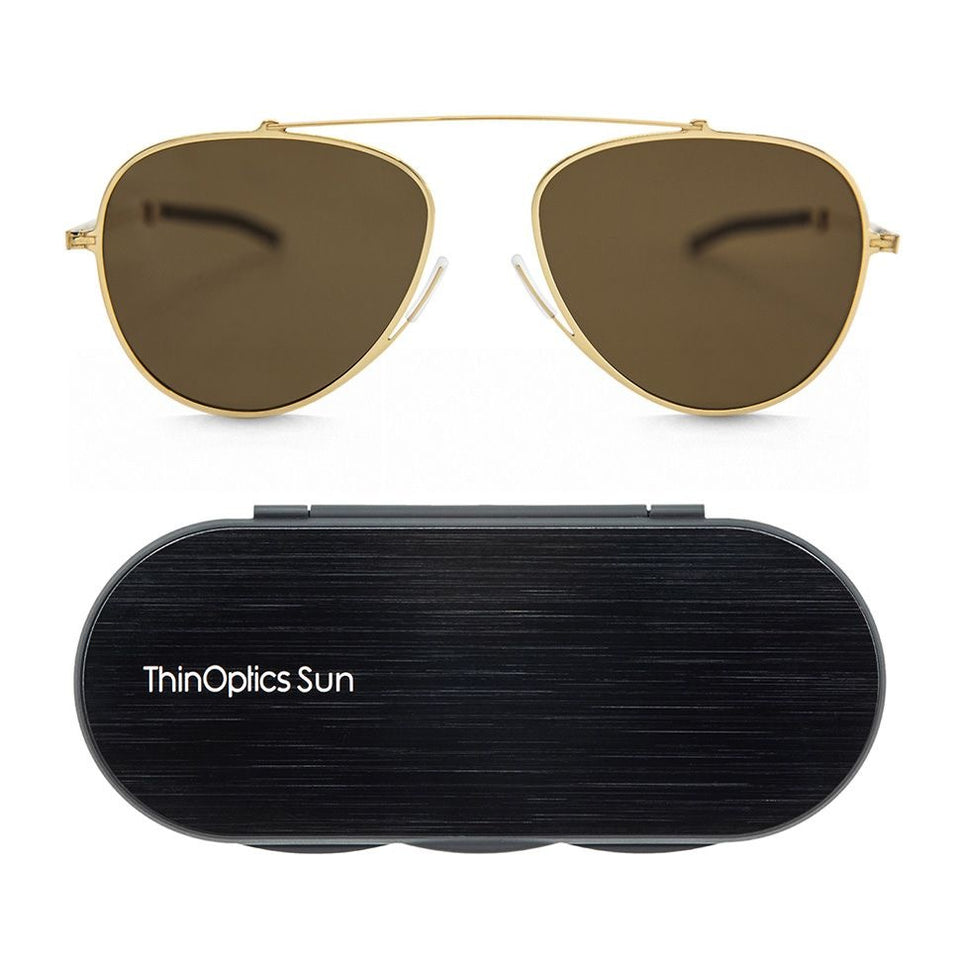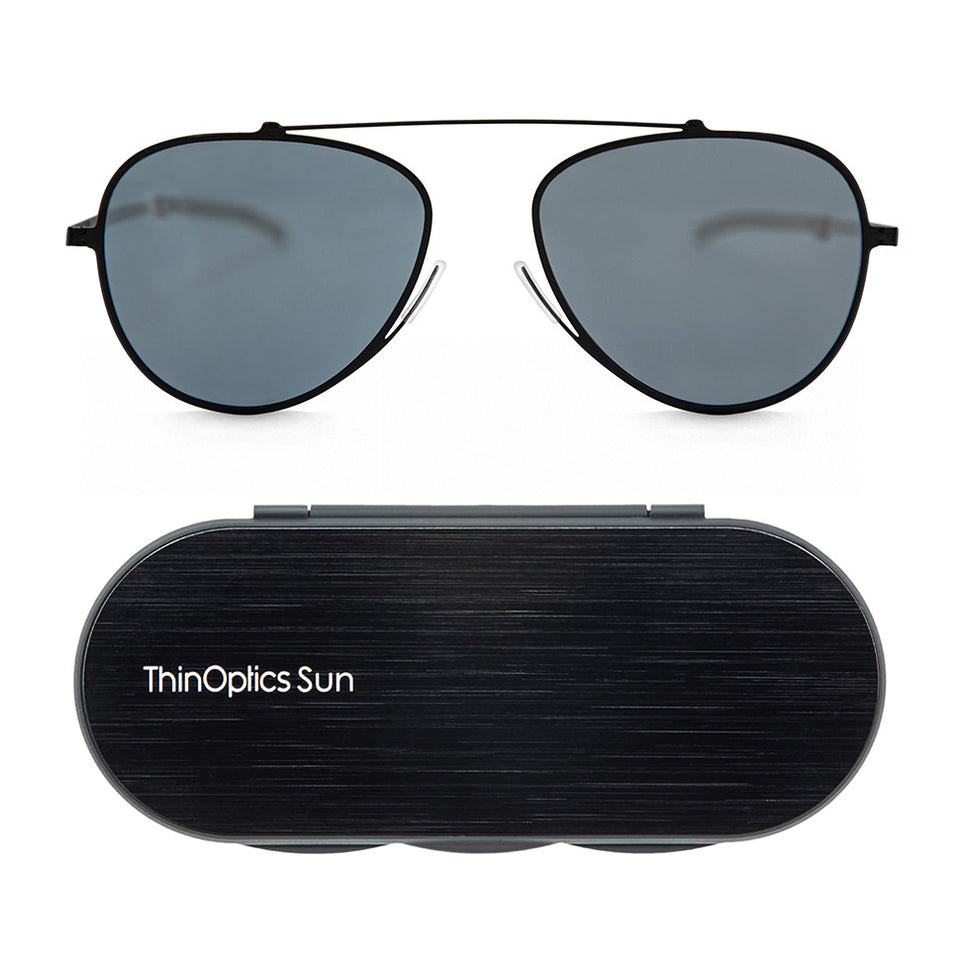 ThinOptics Suns Aviator Glasses
TOSUNAVIBLGR-4
by ThinOptics
Why do I need suns that are easy to carry?
We take sunglasses on and off multiple times each day. When we aren't wearing them, we either put them in a bulky case which takes up space, or jam them in a pocket or bag which can scratch a lens or damage the frame. We decided sunglasses should look great and be convenient to carry. So we designed these lightweight, polarised aviator sunglasses that are beautiful to wear, and better yet, an insanely thin case to carry them in.
I hate bulky cases. How is this case so thin?
The ThinOptics compact, polarised aviator sunglasses fit easily in a front pants pocket, purse or any small space, without you even noticing it. The extremely durable, brushed aluminium case provides heavy duty protection, yet is as thin as a passport. The felt lining protects the lenses from scratching, and the magnetic closure keeps suns safe inside.
How can the frames be ultra-thin, flexible and strong?
We use the best materials available to build great-looking, comfortable, durable, ultra-thing, compact sunglasses you can carry everywhere. The frame front and temples are made with high-tensile-strength, stainless steel to prevent breakage and corrosion. The bridge is made with a super-elastic titanium, shape-memory alloy to allow suns to keep their shape, preserve fit and prevent breakage. Temples are hinged to enable compact folding. Nose pads and temple tips provide a comfortable, non-slip fit.
How do the lenses help me see better?
Sunglasses should make you look great, and help you see well. Our ultra-thin, aviator sunglasses lenses are polarised to eliminate glare, 100% UV protective and available in green, brown and grey to help you see clearly and comfortably in all bright light conditions.
Why do colours look so crisp through these lenses?
Because of light attenuation. Sun lenses reflect and absorb bright light in order to transmit as much light as you need to see clearly and comfortably. We selected three attractive base lens colours to strip out about 85% to 90% of the bright light. The Flash Mirror Grey lens lets through a balanced spectrum of about 10% of outside light so colours remain in proper balance. The Green lens transmits about 16% of outside light and also remains generally colour balanced. Our Brown lens transmits about 11% of outside light, while eliminating a higher proportion of blue light to increase colour contrast and enhance vision.
Why does the anti-reflective coating make things look so much clearer?
All of our ultra-thin sunglasses lenses have an anti-reflective coating on the back, which minimises back reflections when looking through the lenses. This provides clearer, better vision.
How do I store my sunglasses in the case?
To store, fold each temple so that the back half is parallel and next to the front half, then close each temple so they are flat against the back of the lenses. Place the folded sunglasses face down on the felt liner with the suns fitting inside the well. This will enable the magnetised top half of the "clamshell" case to close. The magnets will keep your case shut. When you want to reopen the case, use your thumbs to separate the top and bottom half.
Why do the sunglasses feel so light on my face?
ThinOptics are lightweight, compact polarised sunglasses that provide all-day comfort. The shock absorbing, bio-compatible nose pads gently conform to the shape of your nose and the ultra-thin elastomeric temple tip adds security to the fit.
Delivery & Returns
UK
Our standard shipping policy is as follows:
Standard delivery (4-7 days) - £2.99
Express delivery (1-3 days) - £5.99
FREE express delivery on orders over £25 
Rest of World*
Standard international delivery - £10.99
*Minimum order value £100 for international orders (May be subject to local customs charges)