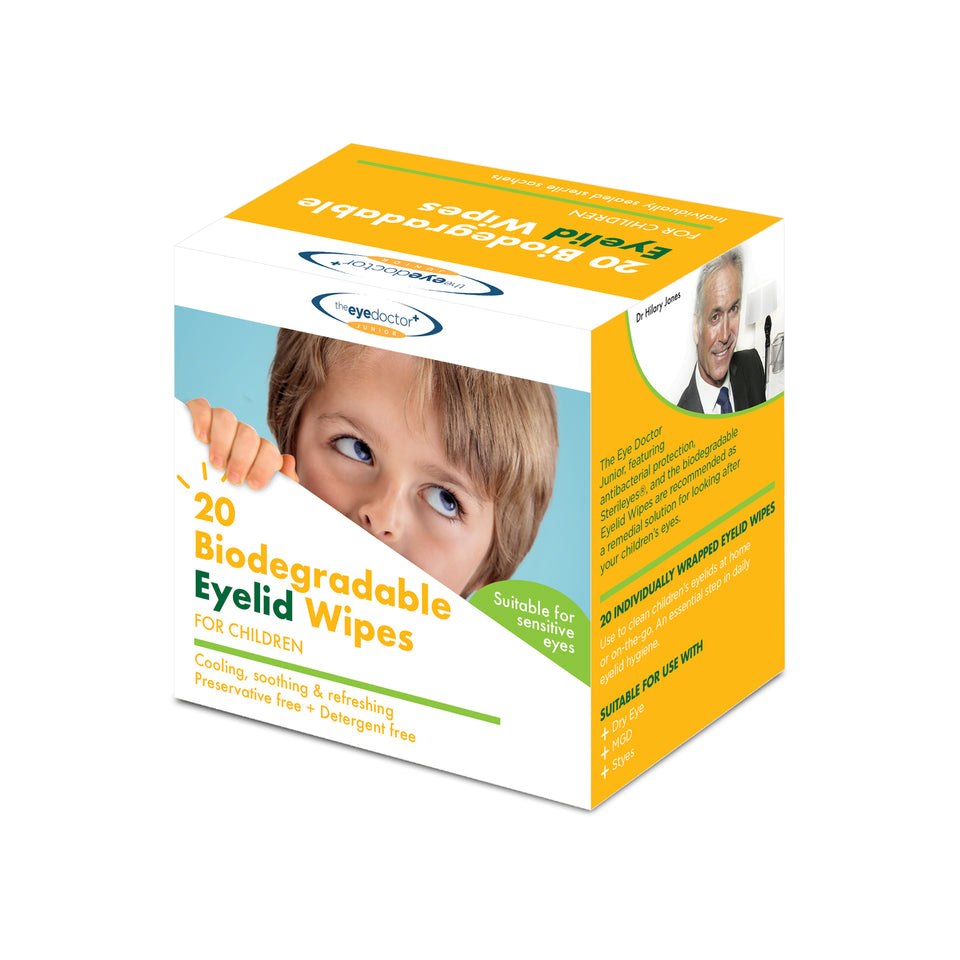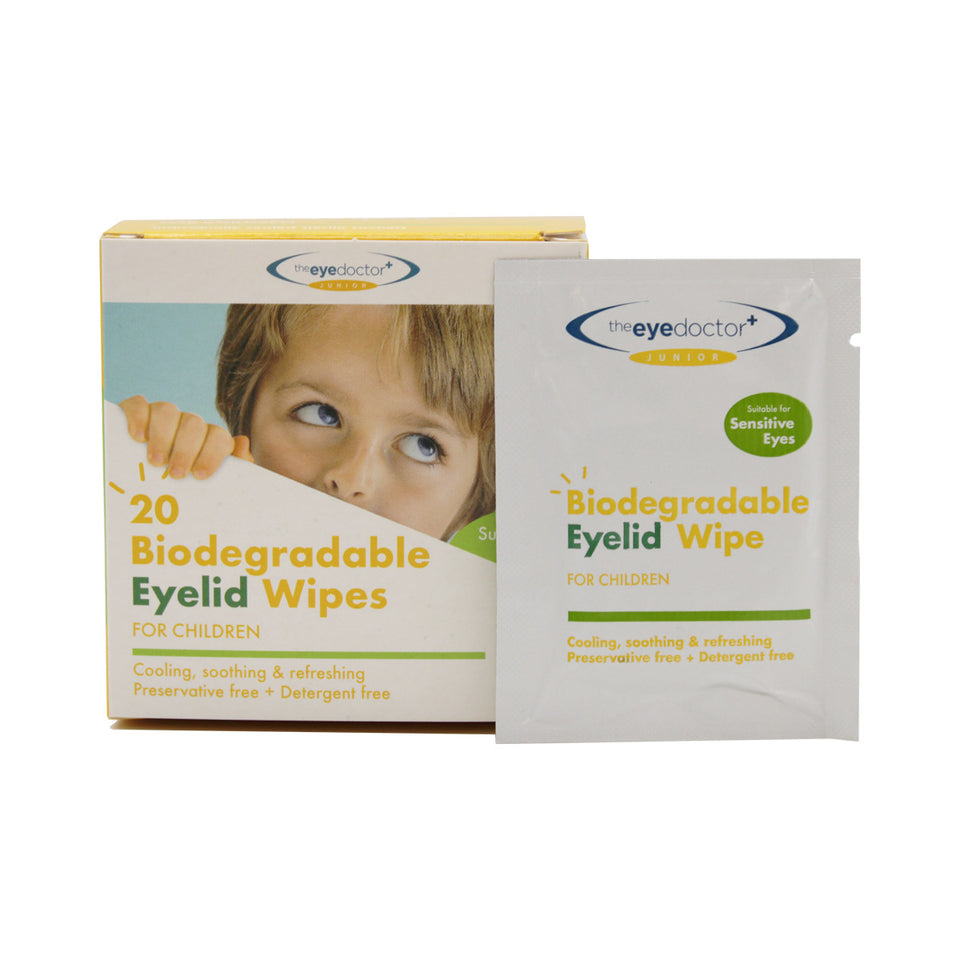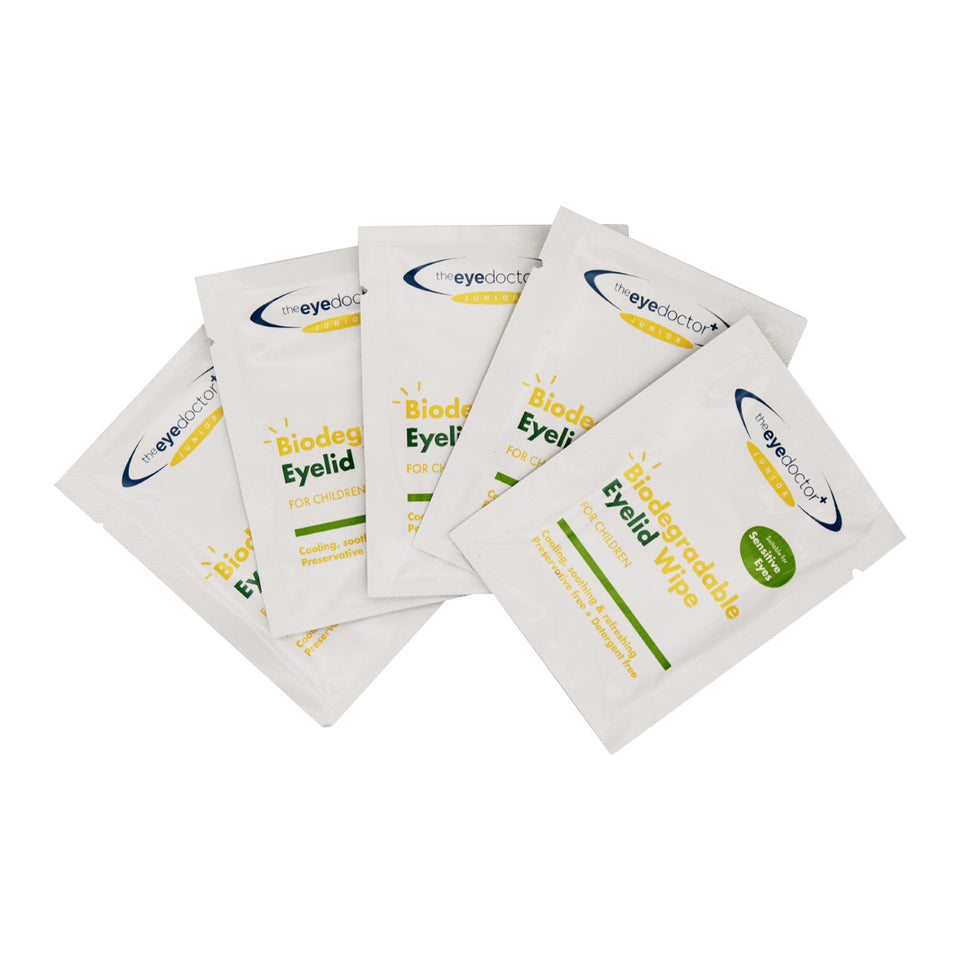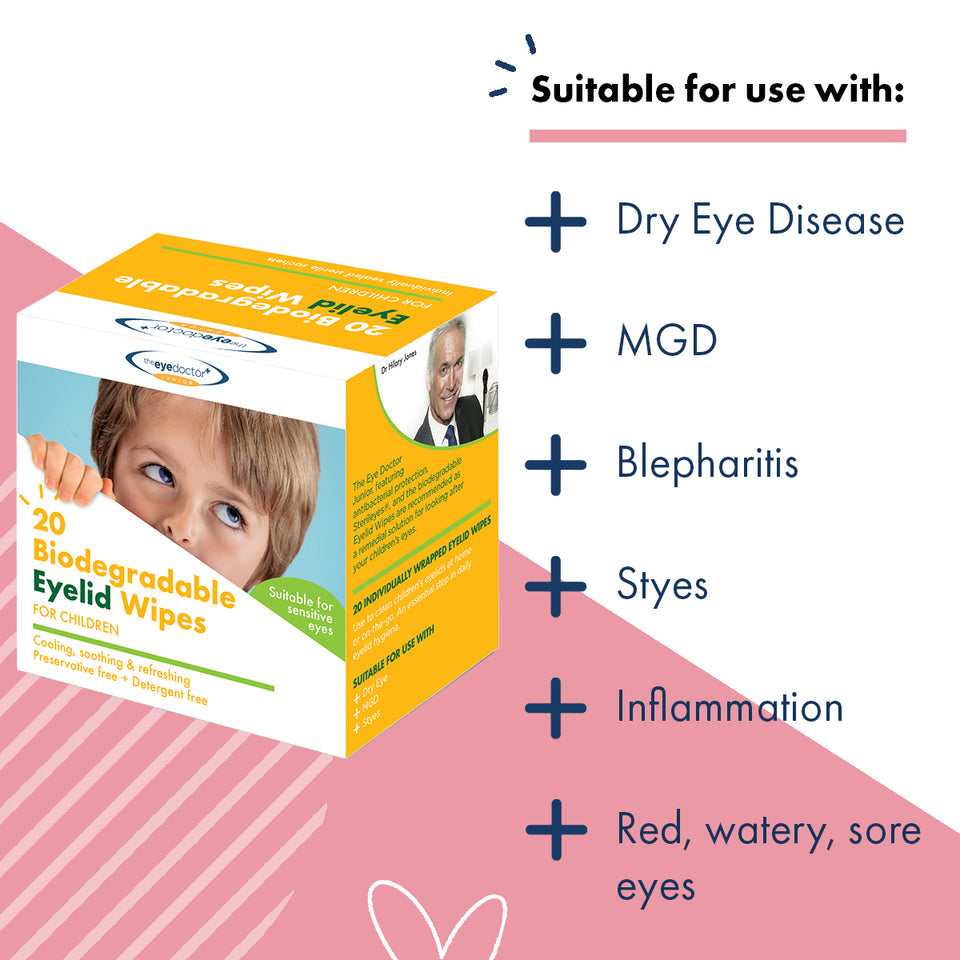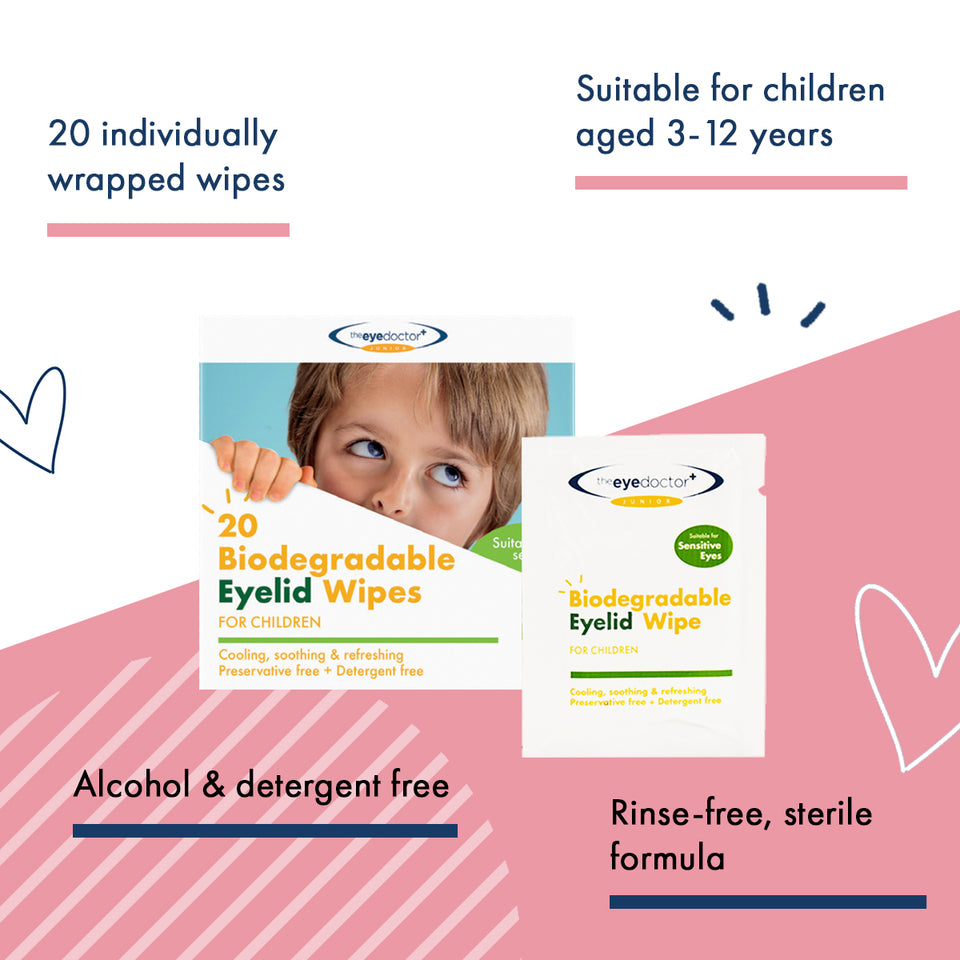 The Eye Doctor Junior® Biodegradable Eyelid Wipes
EDJELW20
The Eye Doctor Junior

® Biodegradable Eyelid Wipes 

contains 20 individually wrapped eyelid wipes
.
Designed for children, by experts. Because even the littlest eyes need expert care 💫
The Eye Doctor Junior® Biodegradable Eyelid Wipes help relieve the symptoms of a range of eye conditions and complications, including Dry Eye Disease in children.
Dry Eye Disease has a global prevalence of 49.5%*, however it is now becoming more prevalent in young children, thought to be due to prolonged screen time use. Dry Eye Disease, if gone untreated, can lead to a variety of unwelcome symptoms and possible non-reversible Dry Eye. 
During prolonged screen use, the blinking rate dramatically decreases, which can cause the Meibomian Glands to become blocked and the onset of Dry Eye Disease and the associated symptoms: dry, sore, gritty eyes. 
How does The Eye Doctor Junior® Biodegradable Eyelid Wipes work?
The Eye Doctor Junior® Biodegradable Eyelid Wipes helps relieve dry, sore, gritty eye symptoms by gently away dirt and debris from the eyelid and eyelashes without irritation. The soap-free, rinse-free formula maintains the lipid layer of the tear film which is essential in reducing tear evaporation. Without this layer, eyes can become very dry and irritated.  
Cooling
Soothing
Refreshing
Suitable for sensitive eyes
Use to clean your children's eyelids at home or on-the-go.
What makes the The Eye Doctor Junior® Eyelid Wipes Biodegradable?
Made from Viscose fibres, our wipes are fully biodegradable in natural environments: in the soil, compost and both fresh or marine water. They will fully convert back to nature and do not require recycling. At The Body Doctor, we recognise that being sustainable is becoming a necessity due to ever-changing perceptions around the world and we are starting to bridge the gap between 'knowing' and 'doing,' by embracing sustainable products, packaging and practises. We believe our eyelid wipes being biodegradable is a first for the optical industry and we are dedicated to continue this initiative across our whole portfolio, reducing as much impact to the environment as possible.
Ingredients:
0.9% Sodium Chloride solution.
Who recommends The Eye Doctor Junior Eye Compress®?
This product is recommended by numerous professionals and patients including:
Dr Hilary Jones - TV Presenter, Medical Broadcaster, Author and Public Speaker

Dr Colin Parsloe - Speciality Doctor in Ophthalmology The Milton Keynes University Hospital

 
Delivery & Returns
UK
Our standard shipping policy is as follows:
Standard delivery (4-7 days) - £2.99
Express delivery (1-3 days) - £5.99
FREE express delivery on orders over £25 
Rest of World*
Standard international delivery - £10.99
*Minimum order value £100 for international orders (May be subject to local customs charges)