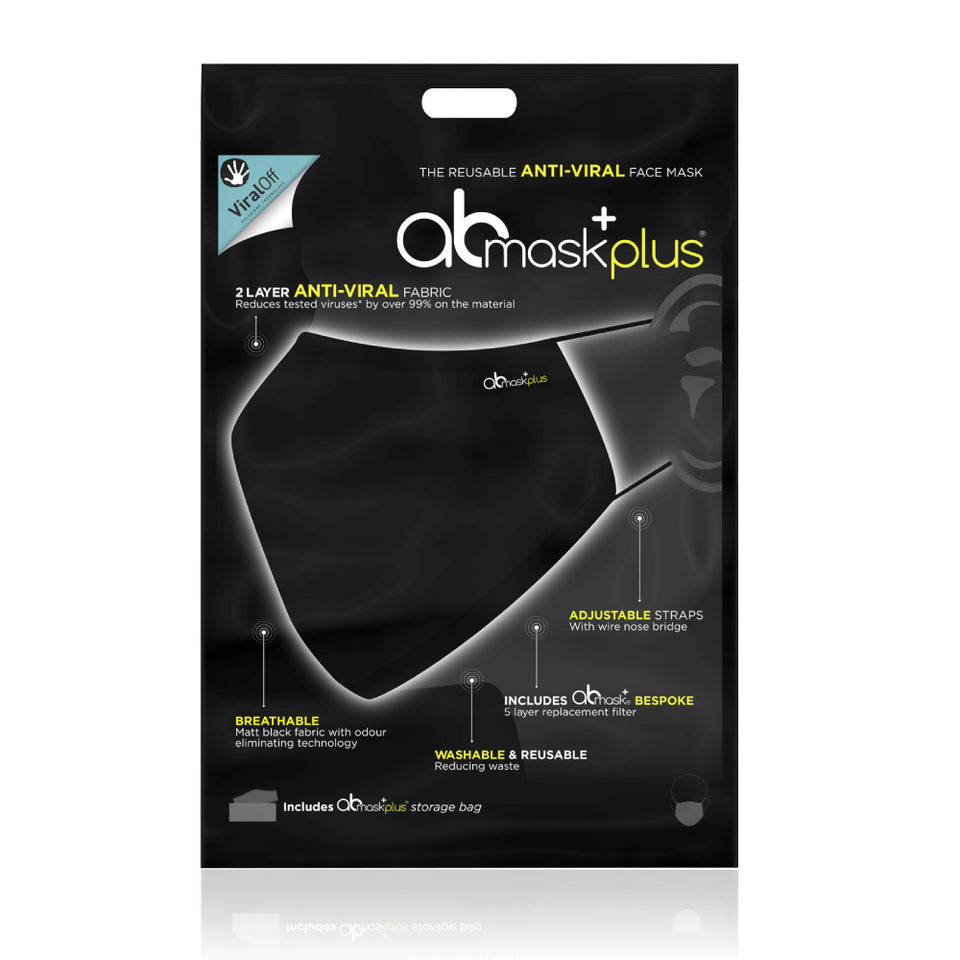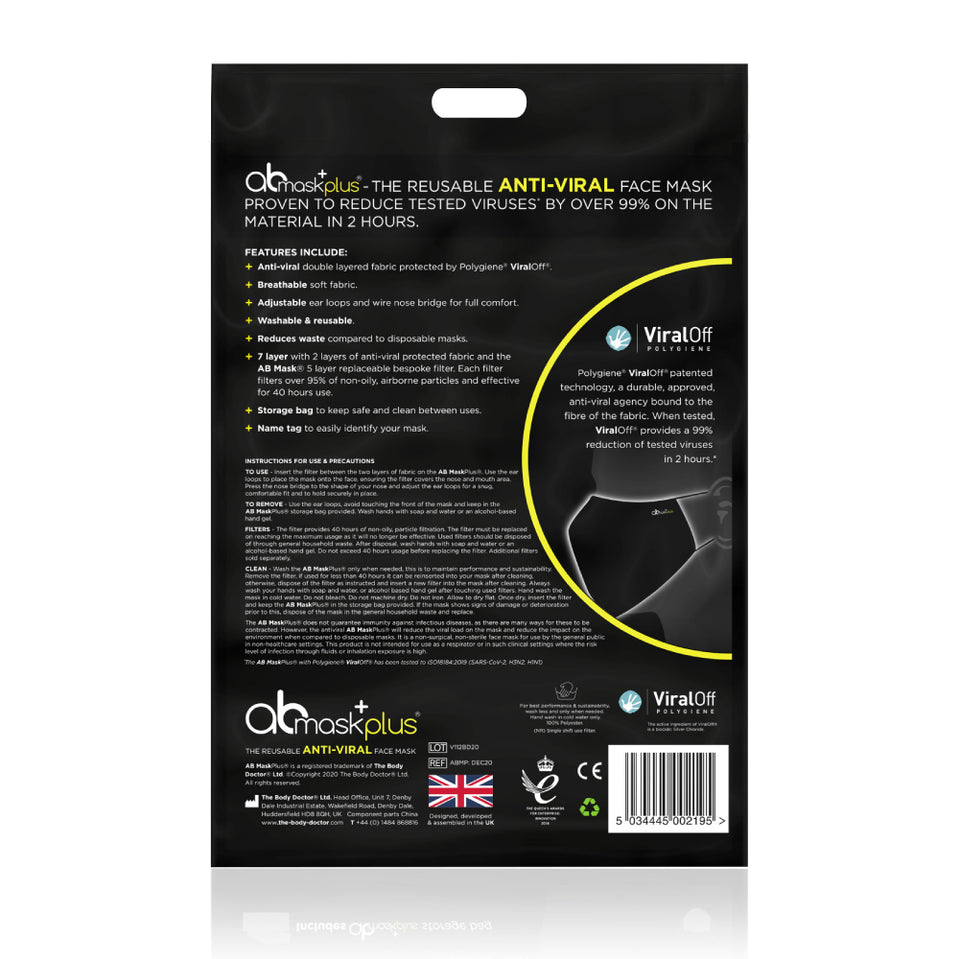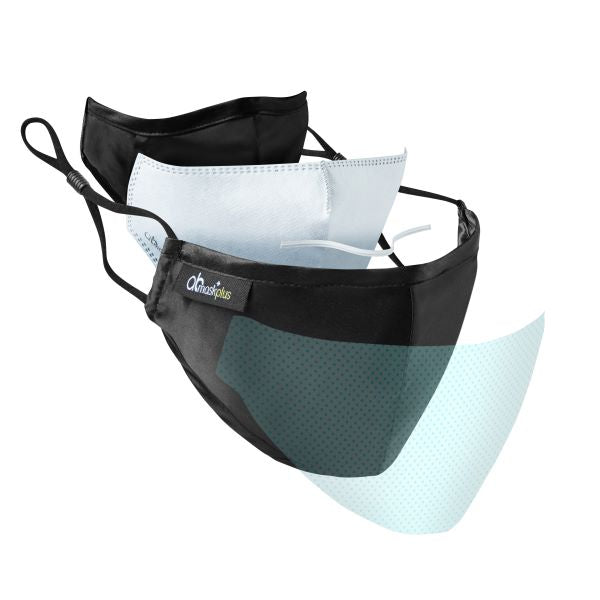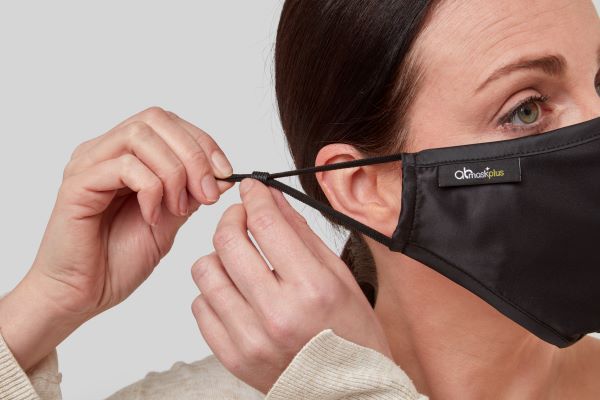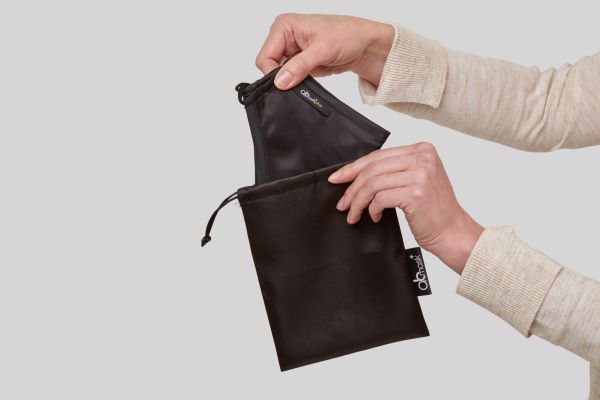 The AB Mask Plus
ABMASKPLUS
by AB Mask
THE BRAND NEW AB MASKPLUS® – THE REUSABLE ANTI-VIRAL FACE MASK PROVEN TO REDUCE TESTED VIRUSES BY OVER 99% ON THE MATERIAL IN 2 HOURS
Our BESTSELLING face mask is now available with ANTI-VIRAL PROTECTION. The same great, customisable fit, voted BEST FACE MASK for glasses wearers – NOW ANTI-VIRAL.
 FEATURES INCLUDE:
+ Anti-viral double layer fabric protected by Polygiene® ViralOff®+ Breathable soft fabric
+ Adjustable ear loops and wire nose bridge for full comfort
+ Washable & reusable
+ Reduces waste compared to disposable masks
+ 7 layer with 2 layers of anti-viral protected fabric and the AB Mask® 5 layer replaceable filter. Each filter has a bacterial efficiency of more than 98%
+ Storage bag to keep safe and clean between uses
+ Name tag to easily identify your mask
INSTRUCTIONS FOR USE & PRECAUTIONS:
TO USE - Insert the filter between the two layers of fabric on the AB MaskPlus®. Use the ear loops to place the mask onto the face, ensuring the filter covers the nose and mouth area. Press the nose bridge to the shape of your nose and adjust the ear loops for a snug, comfortable fit and to hold securely in place.
TO REMOVE - Use the ear loops, avoid touching the front of the mask and keep in the AB MaskPlus® storage bag provided. Wash hands with soap and water or an alcohol-based hand gel.
FILTERS - The filter should be effective for up to 40 hours of use, however, filter longevity depends on the intensity of the particulate matter in the environment.  We recommend that the filter is replaced at the time of washing the mask or before if it becomes harder to draw breath.  Used filters should be disposed of through general household waste.  After disposal, wash hands with soap and water or an alcohol-based hand gel. Additional filters sold separately.
CLEAN – Wash the AB MaskPlus® only when needed, this is to maintain performance and sustainability. Remove the filter and dispose as instructed and insert a new filter into the mask after cleaning. Always wash your hands with soap and water, or alcohol based hand gel after touching used filters. Hand wash the mask in cold water. Do not bleach. Do not machine dry. Do not iron. Allow to dry flat. Once dry, insert the filter and keep the AB MaskPlus® in the storage bag provided. If the mask shows signs of damage or deterioration prior to this, dispose of the mask in the general household waste. 
The AB MASK PLUS®  is a Type 1 Medical Mask which should only be used to reduce the risk of the spread of infections particularly in epidemic or pandemic situations.  Each mask is intended for use by one person only and must not be shared
 THE AB MASKPLUS®with Polygiene® ViralOff® has been tested to ISO18184-2019 (SARS-CoV-2, H3N2, H1N1)
Delivery & Returns
UK
Our standard shipping policy is as follows:
Royal Mail 2nd Class Tracked - £1.99 or free on orders over £20
Royal Mail 1st Class Tracked - £2.99
Courier Delivery - £5.99
Rest of World*
Standard international delivery - £10.99
*Minimum order value £100 for international orders (May be subject to local customs charges)