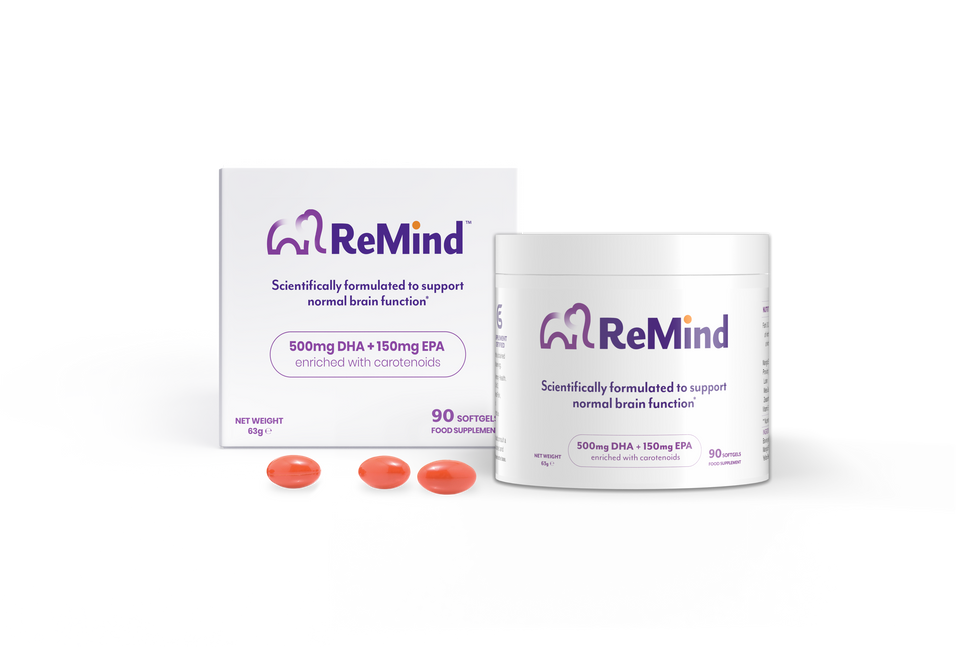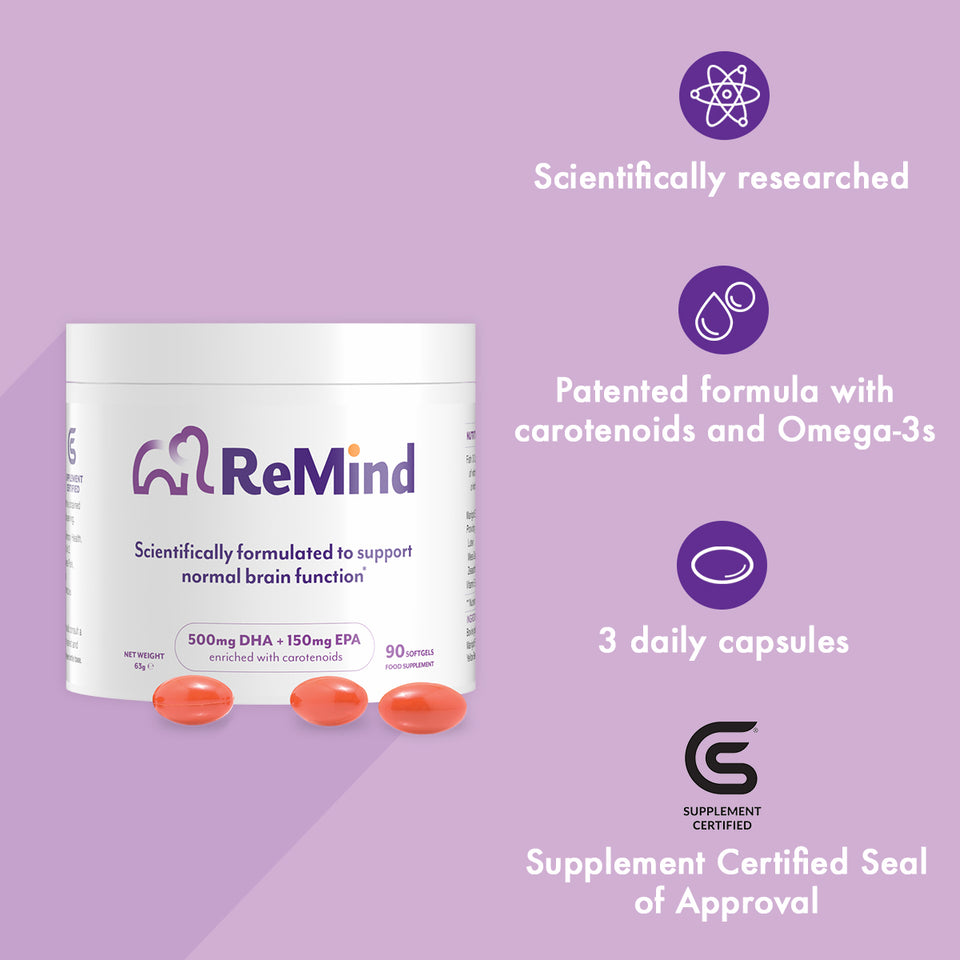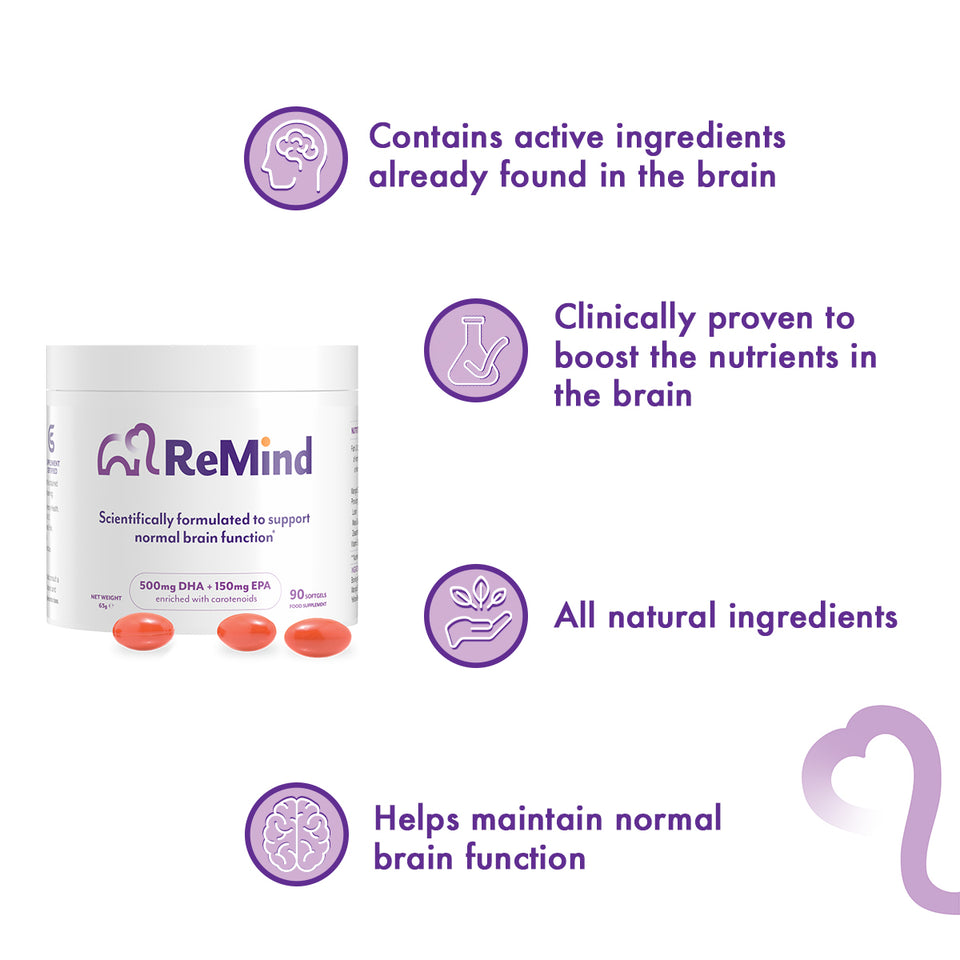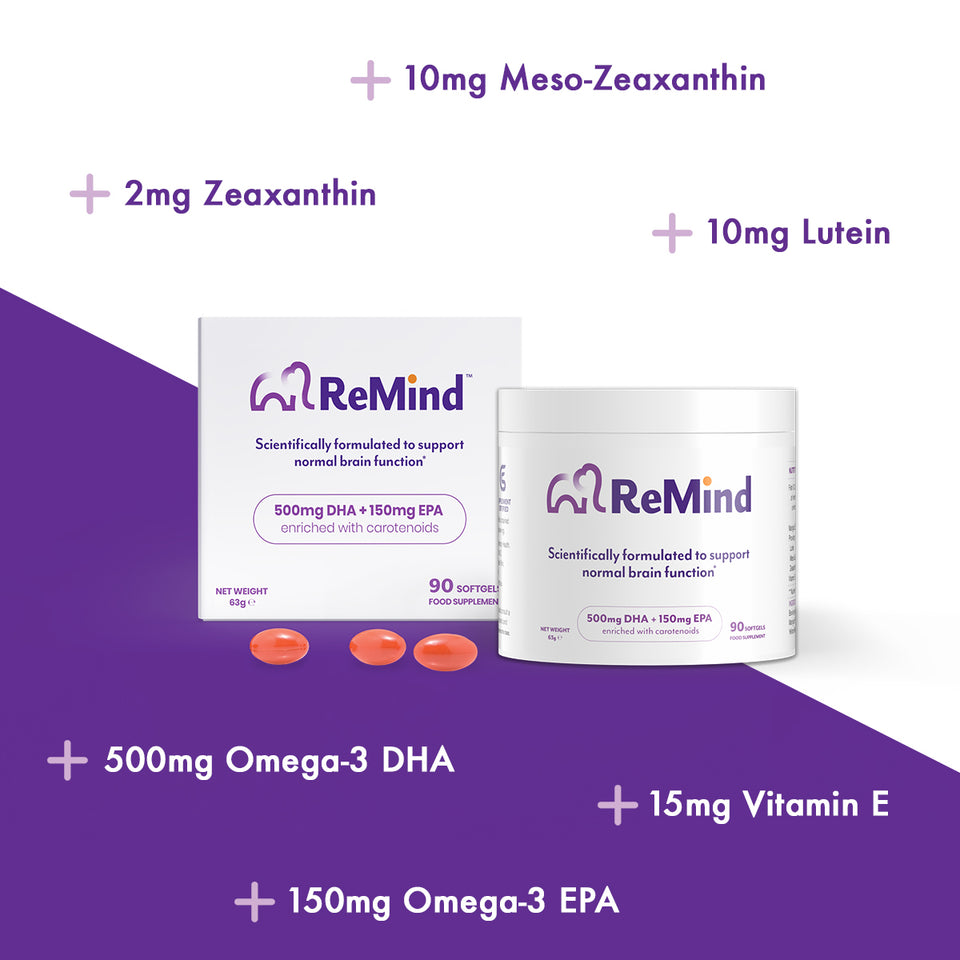 ReMind™ Brain Health Supplements
REMIND30
by ReMind
It's Never Too Early To Start Thinking About Supporting Our Brain Function
Looking after our overall brain function is important at every age. ReMind™ has been scientifically researched by leading scientists at South East Technological University (SETU) to investigate how it supports normal brain function 1,2,3,4,5,6
Our patented formula combines carotenoids and the power of Omega-3 for the maintenance of brain function. An all-natural, nutritional supplement that was developed to support normal brain function. It is uniquely formulated to deliver a targeted dose of omega-3 fatty acids, carotenoids and vitamin E directly to your brain. Low carotenoid levels have been established as a potential risk factor for both Age-Related Macular Degeneration (AMD) and Alzheimer's Disease.
About ReMind™
The ReMind™ formulation was specifically designed to reflect the very latest scientific understanding of brain nutrition. The active ingredients in the ReMind™ formulation are already found in the brain.
The ReMind patented formula combines carotenoids and the power of Omega-3. Omega-3 fatty acids are one of the key building blocks of the brain, with DHA fatty acids making up 40% of our brain. Carotenoids have been discovered in both our eyes (at the macula) and our brains.
ReMind™ gives you a targeted daily dose of:
500mg Omega-3 DHA
150mg Omega-3 EPA
15mg Vitamin E
10mg Lutein
10mg Meso-Zeaxanthin
2mg Zeaxanthin
How often should I take ReMind™?
With three capsules each day, ReMind™ will boost your diet and start you on the road to better brain function.
Do not take with porridge, as the fibre can inhibit the absorption of carotenoids into the blood.
*DHA contributes to the maintenance of normal brain function. The beneficial effect is obtained with a daily intake of 250mg DHA. ReMind™ provides 500mg DHA per daily serving.
1. Low macular pigment optical density is associated with lower cognitive performance in a large, population-based sample of older adults. Feeney J, Nolan JM, et al, Neurobiology of Aging, 2013.
2. The impact of supplemental macular carotenoids in Alzheimer's disease: a randomized clinical trial. Nolan JM, Loskutova E et al, Journal of Alzheimers Disease, 2015.
3. Nutritional Intervention to Prevent Alzheimer's Disease: Potential Benefits of Xanthophyll Carotenoids and Omega-3 Fatty Acids Combined. Nolan JM, Mulcahy R, et al, Journal of Alzheimer's Disease, 2018.
4. Supplemental Retinal Carotenoids Enhance Memory in Healthy Individuals with Low Levels of Macular Pigment in A Randomized, Double-Blind, Placebo-Controlled Clinical Trial. R Power, Nolan JM et al, Journal of Alzheimer's Disease, 2018.
5. Omega-3 fatty acid, carotenoid and vitamin E supplementation improves working memory in older adults: A randomised clinical trial. R Power, Nolan JM et al, Clinical Nutrition , 2021.
6. Nolan JM, et al. 'Supplementation With Carotenoids, Omega-3 Fatty Acids, and Vitamin E Has a Positive Effect on the Symptoms and Progression of Alzheimer's Disease' Re-MIND (Memory Investigation with Nutrition for Dementia) Trial. J Alzheimers Dis. 2022:233–249.
Delivery & Returns
UK
Our standard shipping policy is as follows:
Royal Mail 2nd Class Tracked - £1.99 or free on orders over £20
Royal Mail 1st Class Tracked - £2.99
Courier Delivery - £5.99
Rest of World*
Standard international delivery - £10.99
*Minimum order value £100 for international orders (May be subject to local customs charges)