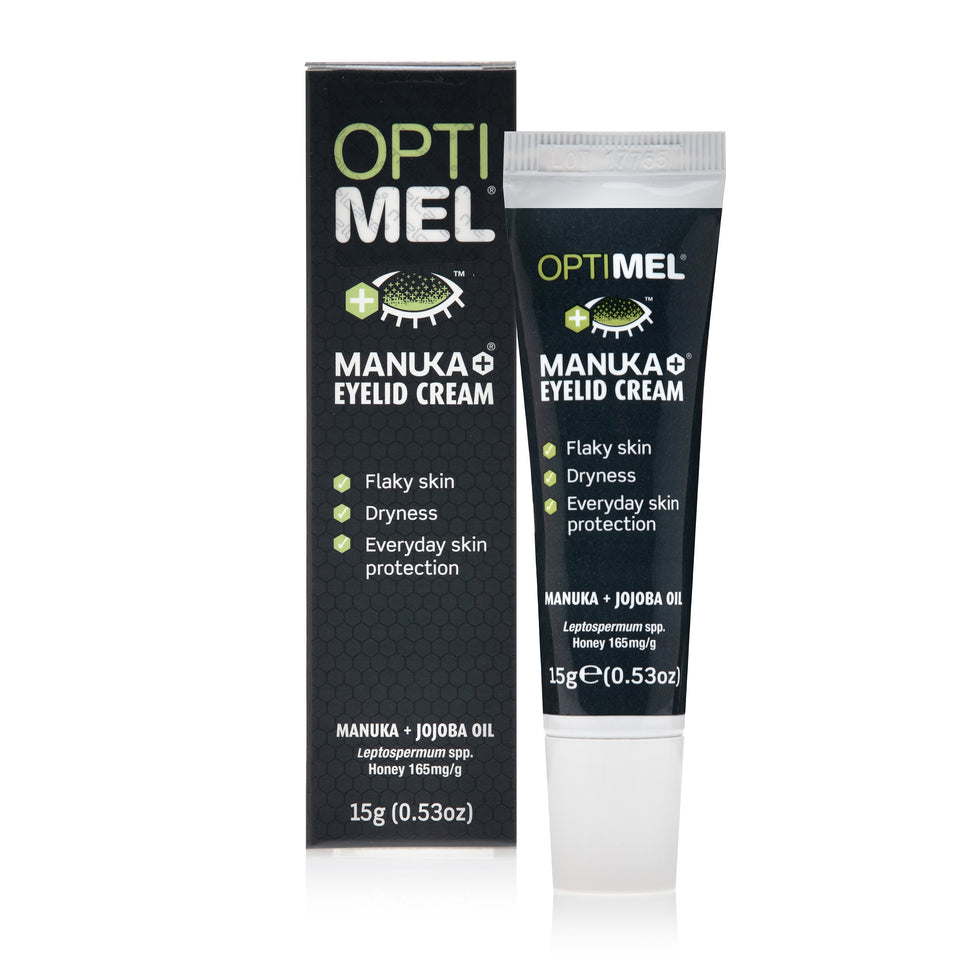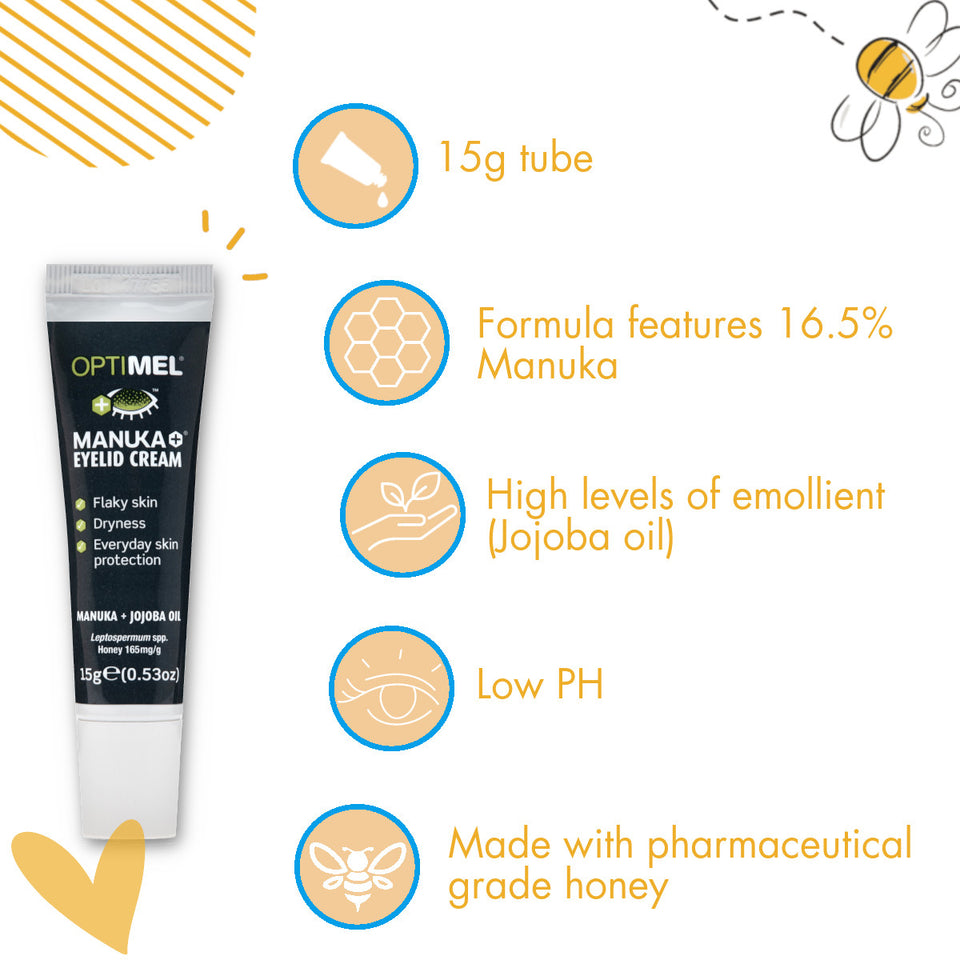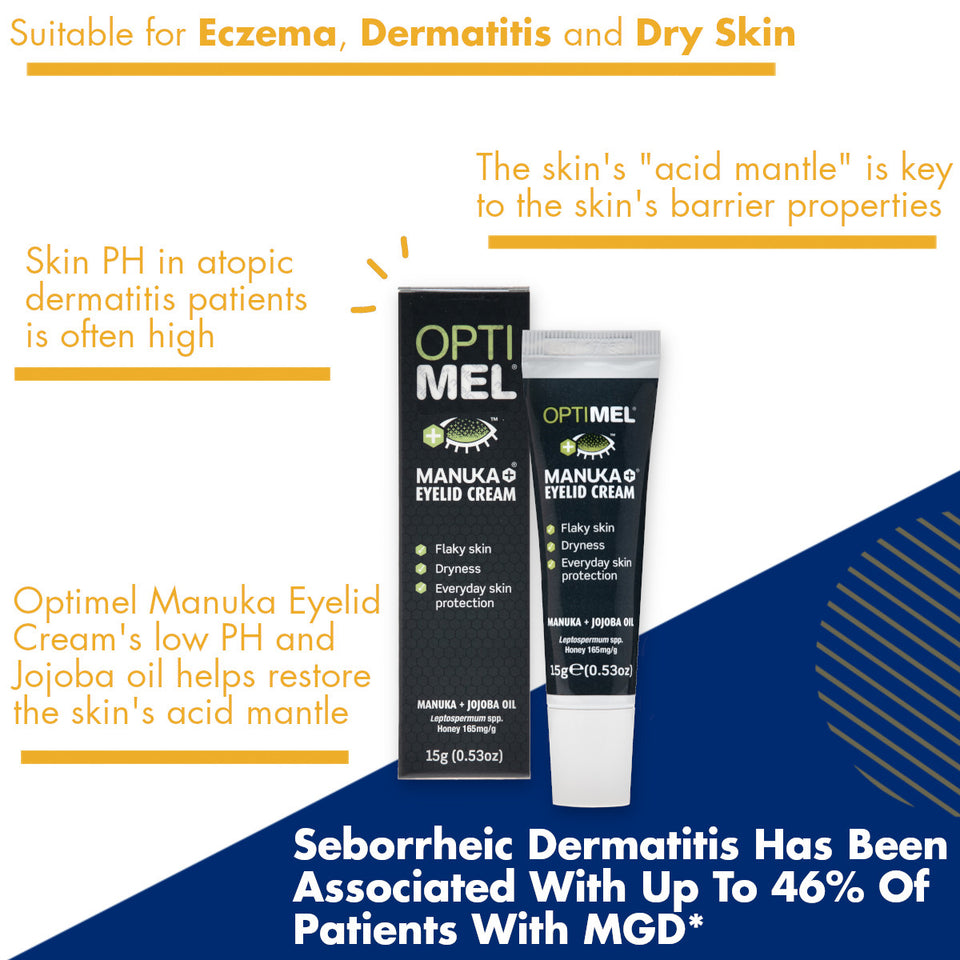 Optimel Manuka+ Honey Eyelid Cream
EDOPTCREAM
by Optimel
Dry eye disease is one of the most widespread eye conditions in the world.
Over time, dry eyes can cause pain and discomfort and can increase the risk of eye infection, resulting in permanent life-changing damages.
Optimel is one of the most innovative dry eye products in the market today and is well-known as an effective treatment for dry eyes. Made with 16.5% pharmaceutical-grade honey, Optimel Cream uses honey from bees of the Leptospermum species which utilises the standardised and natural antibacterial property and honey to alleviate dry eye symptoms.
How Does it Work for Dry Eyes?
Blepharitis is frequently present with various dermatological conditions, including seborrheic dermatitis, rosacea and eczema. Seborrheic dermatitis has been associated with up to 46% of patients with MGD*.
The skins 'Acid Mantle' is key to the skins barrier properties. Skin PH in atopic dermatitis patients if often high and the resulting cascade of changes contribute to the phenotype of atopic dermatitis.
Optimel Manuka+ Eyelid Cream helps to protect dry, flaky skin caused by common eye problems. With a low PH and high levels of emollient (Jojoba oil), this cream helps restore the skins acid mantel which is crucial for barrier function and antimicrobial activity.
Who can benefit from Optimel Manuka+ Eyelid Cream?
Patients who are suffering from the following:
Eczema
Dermatitis
Dry, flaky skin
This product is suitable to be used on sensitive areas of the skin such as eyelids and lips, and under make-up.
Delivery & Returns
UK
Our standard shipping policy is as follows:
Standard delivery (4-7 days) - £2.99
Express delivery (1-3 days) - £5.99
FREE express delivery on orders over £25 
Rest of World*
Standard international delivery - £10.99
*Minimum order value £100 for international orders (May be subject to local customs charges)