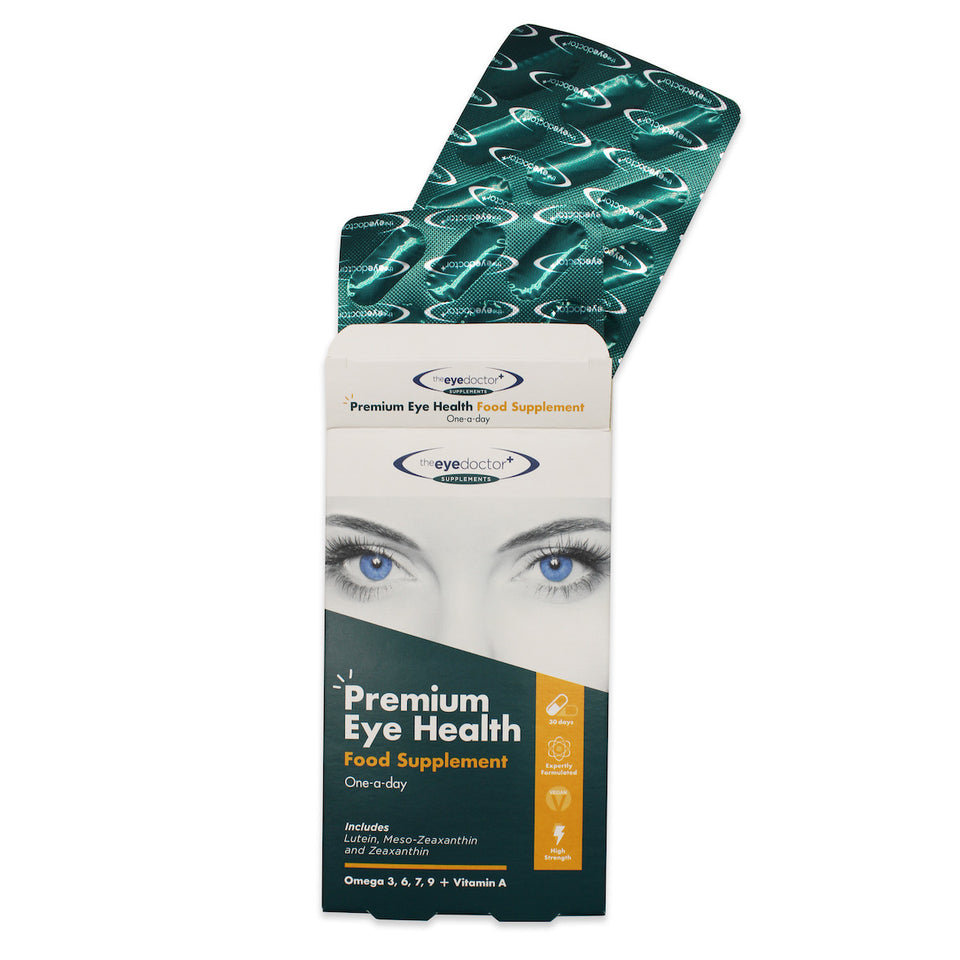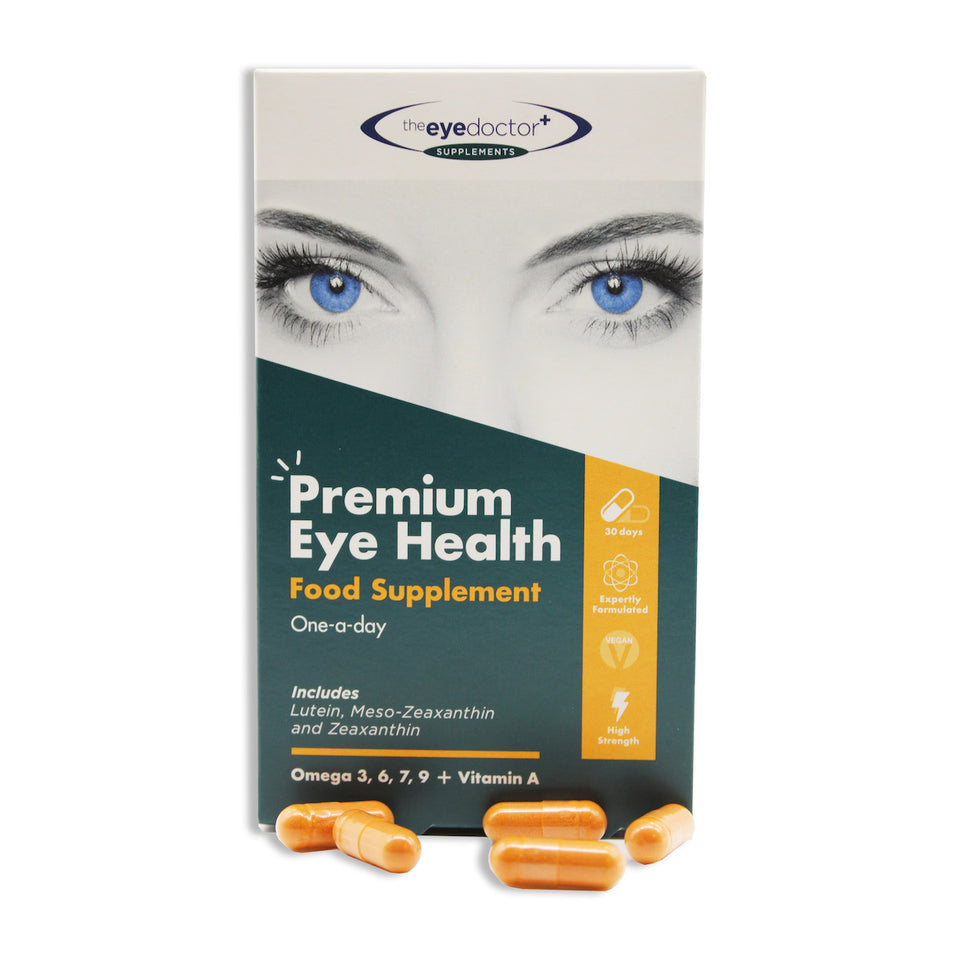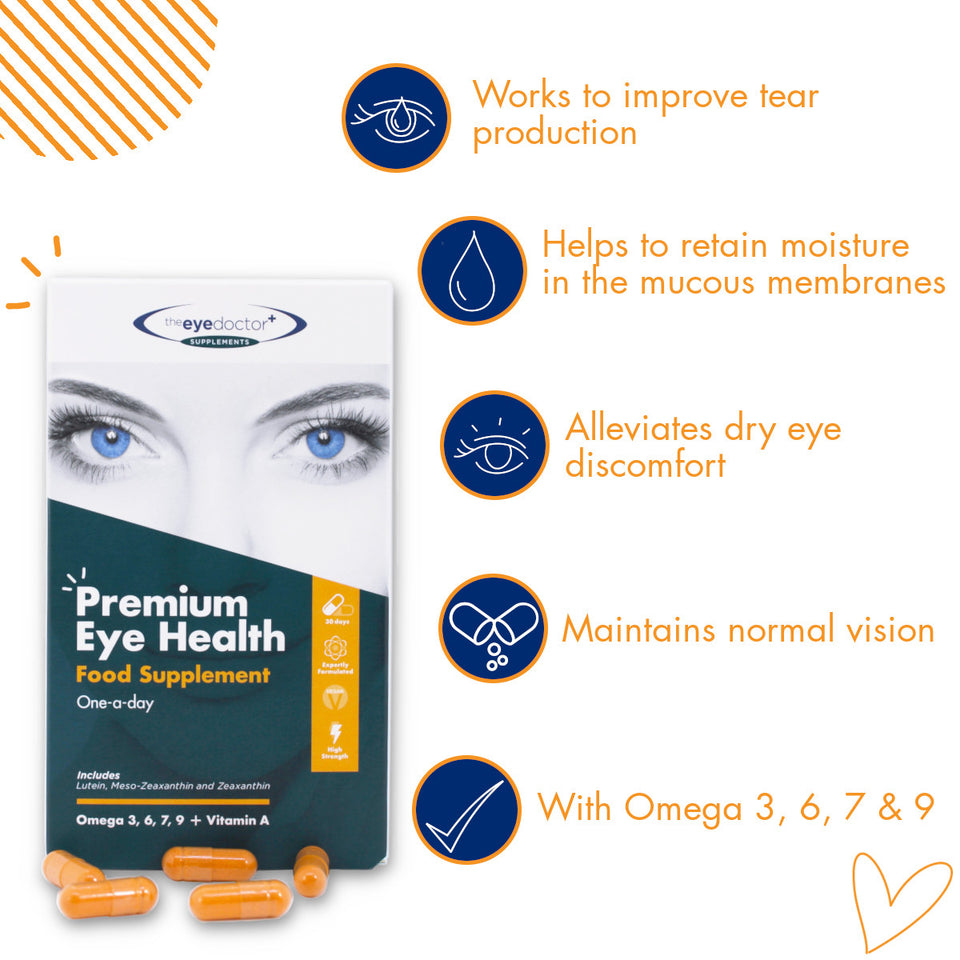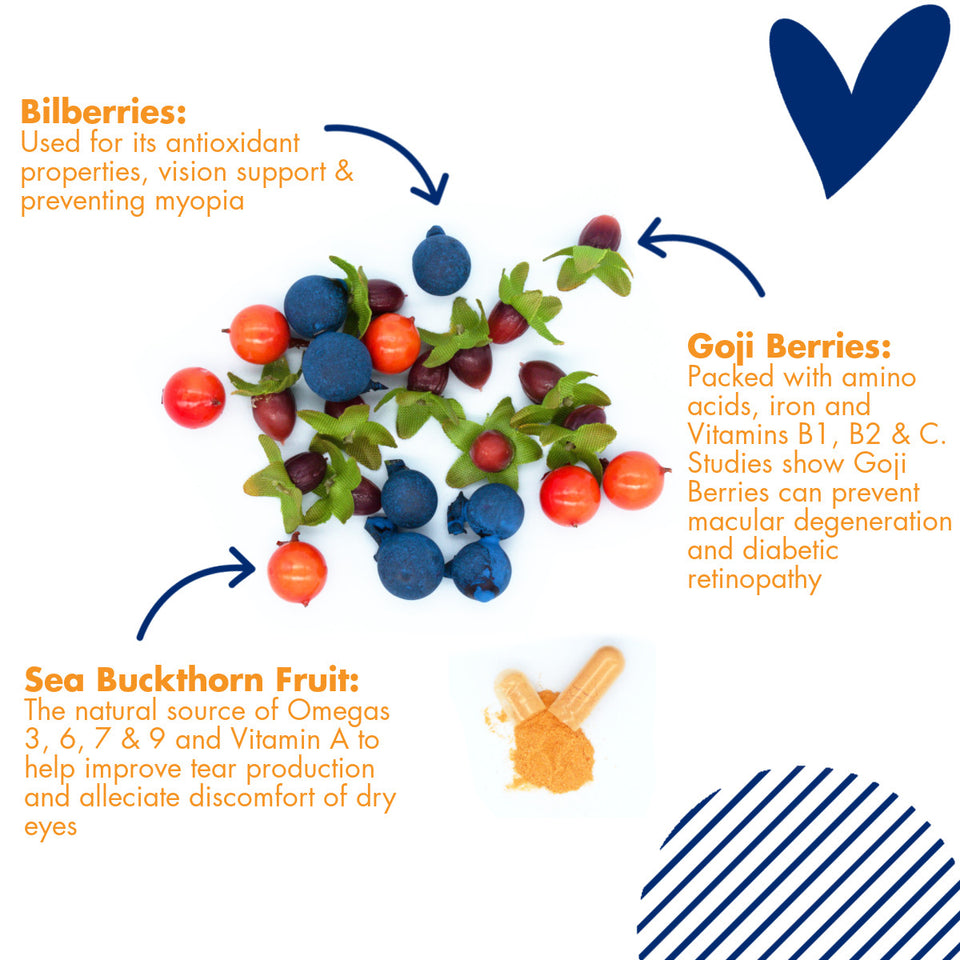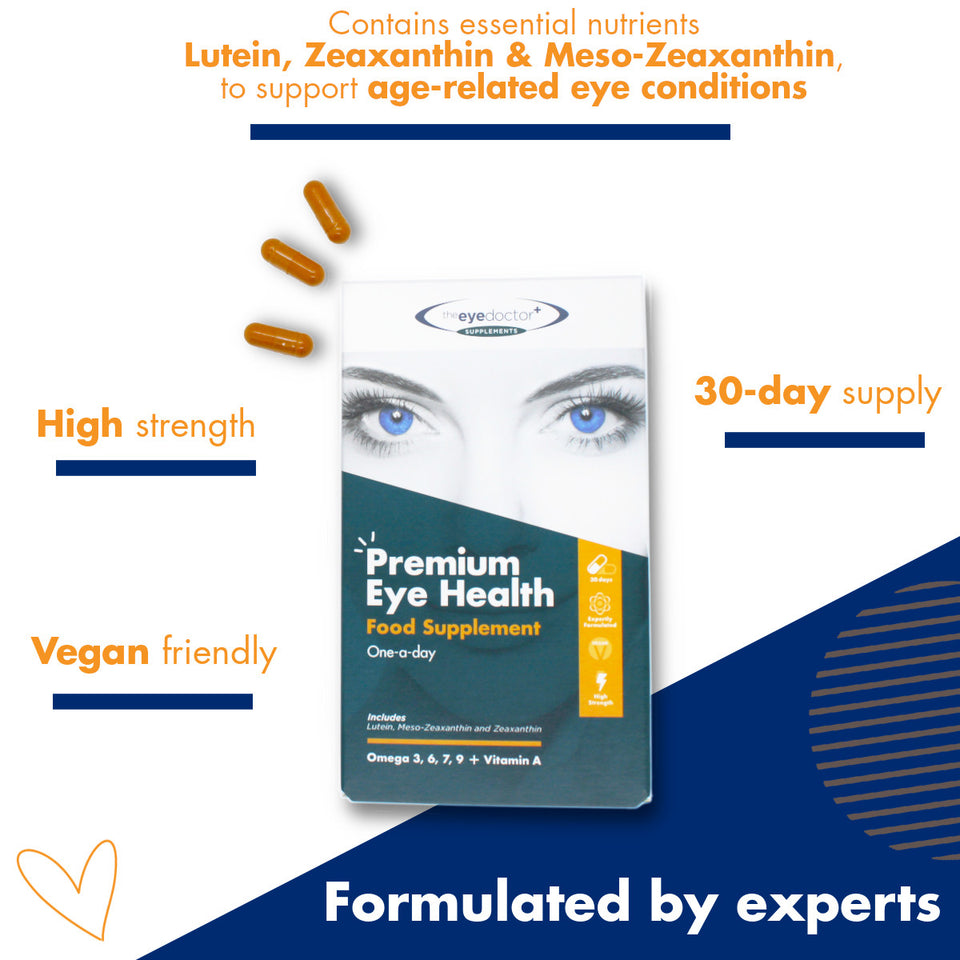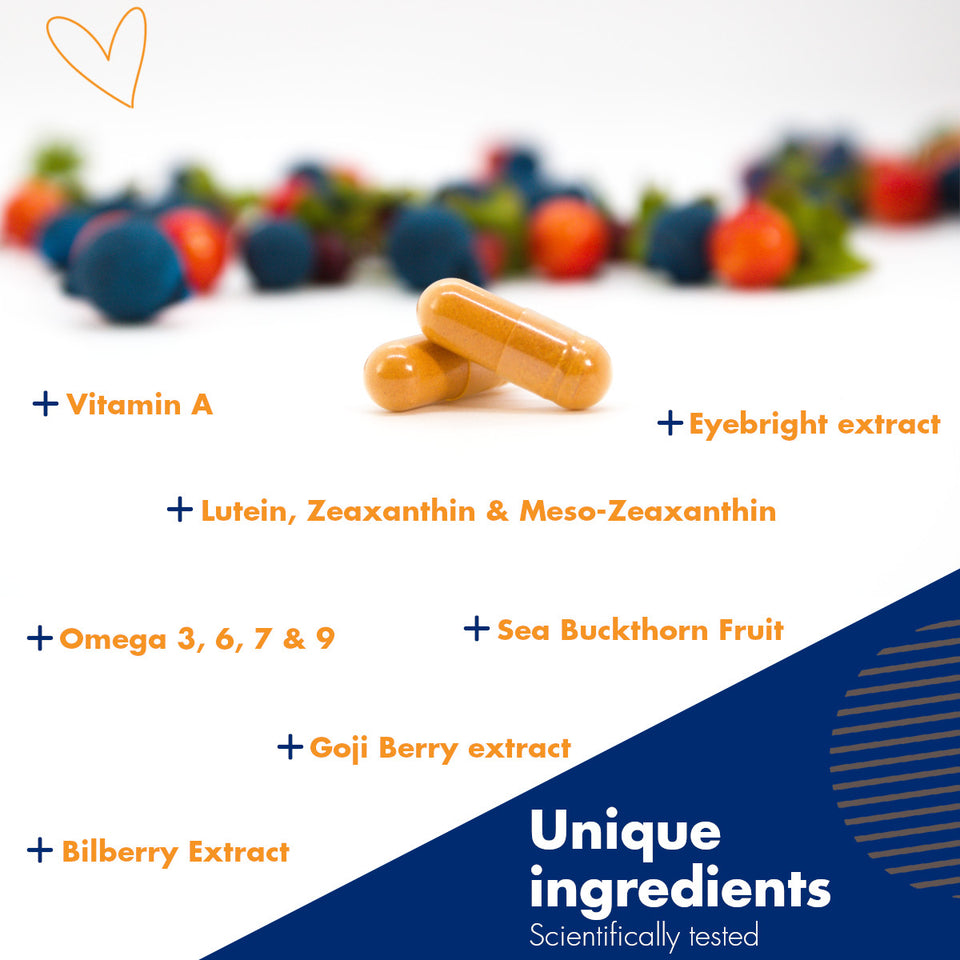 Premium Eye Health Food supplement
EDVITDES
Featuring the ultimate blend of eye nutrients that are scientifically tested, The Eye Doctor® Dry Eye Support supplements are a one-a-day capsule that contains clinically-studied levels of Lutein, Zeaxanthin and Meso-Zeaxanthin – 3 important carotenoids that are found in the macula at the back of the eye. Our bodies cannot make these 3 light-absorbing compounds so it's important that we are getting them from our diet. As our eyes are exposed to more and more light, via factors like high screen-time that emits blue light, it's important that we look after our vision and protect our eyes from oxidative stress. 
The Sea Buckthorn fruit is natures miracle berry and is packed with 190 bioactive nutrients aimed to promote the overall health of humans. As the natural source of Omegas 3, 6, 7 & 9 and Vitamin A, this fruit extract works to help improve tear production, help retain moisture in the mucous membranes and alleviate discomfort of dry eyes. 
What do the experts say?
The Body Doctor's Medical Advisor, Andrew Price, said: "I believe specific food supplements for selected patients can help reduce dry eye symptoms. For many of these patients, they have a real role to play in alleviating symptoms. In these cases, I don't hesitate to discuss how they may help, in addition to other interventions already being used. 
"Since reading, many years ago, the original publications of positive effects from specific dry eye food supplements in the reduction of ocular surface symptoms, I have seen more and more evidence to support my view, along with my clinical experiences.
"Like other dry eye therapies though, it is not a quick fix, I personally judge the effect over a two-month period"
30 capsules per pack. Take 1 capsule a day with water as part of a balanced diet and healthy lifestyle. 


Key features:
+ High strength and high-quality ingredients
+ 30-day supply 
+ Vegan friendly
+ Made in the UK to GMP standards
+ Ingredients scientifically tested
+ 596mg capsule
+ Recommended by Ophthalmologists
+ Contains natural plant extracts 
+ Encapsulated Lutein, Zeaxanthin and Meso-Zeaxanthin for greater stability
Who is this for?
For patients who are seeking a premium, high-strength, natural supplement that will support their dry eye symptoms and help maintain normal vision. 
INGREDIENTS
Vitamin A
Vitamin A is an essential trusted source for good vision. It is a component of the protein rhodopsin, which allows the eye to see in low-light conditions. According to the American Academy of Ophthalmology, a deficiency in Vitamin A can lead to night blindness.
Lutein, Zeaxanthin & Meso-Zeaxanthin 
Studies at Waterford Institute of Technology, Ireland, have shown that the optimal response to these nutrients can be achieved when consumed at high levels. These macular carotenoids are essential nutrients which have been shown to support those with age-related eye conditions.
Part of the retina called the macula is protected by a 'natural sunscreen' to prevent the vision cells from being damaged by from blue or UV light. This natural sunscreen is made up of a yellowish macular pigment which is a mixture of three light-absorbing compounds; Lutein, Zeaxanthin and Meso-Zeaxanthin. Our bodies cannot make these three compounds, so we have to get them from our diet.
Eyebright Extract
The herb, Euphrasia, can help to ease eye problems. This herb, also known as Eyebright, has been used to treat eye conditions as far back as the 17th Century. Used to help boast overall eye health, especially its anti-inflammatory properties that help to relieve sore eyes and eye fatigue. 
Sea Buckthorn Fruit
Grown in the Tibetan Plateau, this fruit survives through one of the harshest ecosystems in the world. With the Tibetan Plateau at elevations as high as 15,000 ft, the UV radiation stimulates the synthesis of the berries' nutrients. These little orange berries have been used traditionally for thousands of years and provide natural vitamins A, B, C, E, K & P in addition to 18 Amino Acids, 14 Minerals and Omegas 3,6,7 & 9. 
Omega 3, 6, 7 & 9
Several studies suggest omega-3 fatty acids help protect adult eyes from macular degeneration and dry eye disease. Essential fatty acids may also help proper drainage of intraocular fluid from the eye, decreasing the risk of high eye pressure and glaucoma. According to the American Academy of Ophthalmology (AAO), omega-3 oils may improve the function of the meibomian glands. The meibomian glands produce the oily layer in tears.  Problems with the oily layer of tears can lead to dry eyes, as the oily layer prevents the water layer of tears from evaporating, keeping the eyes hydrated.
Omega-3s reduce the build-up of fatty deposits in the blood vessels, including those that supply blood to the retina. Some scientists believe that fatty deposits in these blood vessels could contribute to AMD.
Early research suggests that taking omega-6 fatty acid, as well as beta-carotene and other ingredients, can improve tear production and improve eye healing after laser eye surgery. 
Omega-7 can help improve lubrication throughout the body, including tears. Omega-7 helps cells retain moisture in the mucous membranes and in turn alleviating redness, discomfort and inflammation caused by dry eyes.
Omega-9 benefits the heart, brain and overall well-being when consumed and produced in moderation.
Goji Berry Extract
Studies show that Goji Berries help eye health. Following thousands of years of traditional use and other research leading to this conclusion, two recent studies have found that Goji Berries can benefit the eyes, and even prevent macular degeneration and diabetic retinopathy.
Not only do Goji Berries contain protein, but all the essential amino acids, iron, and vitamins B1, B2 and C. They also are a good source of carotenoids, in particular Zeaxanthin, Flavonoids and Polysaccharides – which is vital for eye health.
Bilberry Extract
Using Bilberry for eyes may help in treating a variety of vision-related problems, including for the treatment of glaucoma. Standard extracts of Bilberry are used for its antioxidant properties, vision support and may benefit Myopia or near-sightedness.
Bilberry is used for the treatment of eye fatigue. According to studies by the Journal of Nutrition, Health & Ageing, researchers have determined that treatment with bilberry extract may help improve both objective and subjective measures of eye fatigue. Generally, bilberry is used to improve eyesight such as night vision.
Delivery & Returns
UK
Our standard shipping policy is as follows:
Standard delivery (4-7 days) - £2.99
Express delivery (1-3 days) - £5.99
FREE express delivery on orders over £25 
Rest of World*
Standard international delivery - £10.99
*Minimum order value £100 for international orders (May be subject to local customs charges)